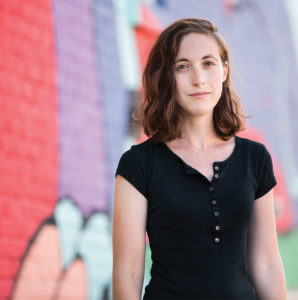 Lee Conell, MFA'15, is not the sort of writer who cultivates a high profile. While she's excited about the upcoming launch of her first story collection, Subcortical, she finds the public role of author far removed from the drive that compels her to write.
"Writing for me is an intensely private thing," Conell says. "I do find all the other stuff around it so separate from the way I feel when I'm writing. To have to talk about the writing or have this thing of 'writerness' feels like a disconnect."
Despite her quiet approach, Conell has been attracting attention since her undergraduate days. A New York City native, Conell published a piece for The New York Times' "Modern Love" column while still a junior at SUNY–New Paltz. In 2016 she won the prestigious Nelson Algren Literary Award, which offers a $3,500 prize sponsored by the Chicago Tribune. Previous winners include Louise Erdrich and Stuart Dybek.
Conell's winning story, "The Lock Factory," concerns a daughter fascinated with her mother's memories of a long-ago job and a pair of battling co-workers. The story draws on the experience of Conell's own mother to examine a universal human dilemma.
"It started with the idea of what traps us and what sets us free," says Conell. "I was interested in exploring that." Although it contains some poignant moments, she sees it primarily as a story about "the ways we connect to each other," which is one of her central concerns as a writer.
"Sometimes we connect to each other in ways that feel more sad, but I think that connection is important," she says. "The Lock Factory" is included in Subcortical, published by Johns Hopkins University Press in November.
A feeling of connection was part of her own motivation for choosing Vanderbilt's highly selective M.F.A. program in creative writing. She liked the faculty–student ratio, and a visit to the campus left her impressed with the welcoming atmosphere and the opportunity to work with distinguished writers like English professors Lorraine López and Tony Earley. She's currently teaching undergraduate writing classes at Vanderbilt and is involved in several projects with Southern Word in Nashville, an organization devoted to educating and empowering youth in underserved communities through the literary arts.
And, of course, she plans to keep writing. "I've always written," she says. Stories are her means of exploring whatever engages her attention and, especially, her feelings. She's drawn to ideas that call up strong emotions.
"I have," she says a little ruefully, "too much feeling all the time."
—Maria Browning
Read the Chicago Tribune article about Conell and her Algren Award at vu.edu/conell-award