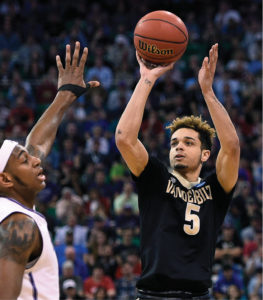 It was the foul heard 'round the world—or at least at the first round of last year's NCAA men's basketball tournament.
With Vanderbilt leading Northwestern 66–65, and 18 seconds left in the game, guard Matthew Fisher-Davis bewilderingly committed an intentional foul. Northwestern sunk both free throws and went on to win the game, unceremoniously ending a recent hot streak for the Commodores and dashing the team's postseason hopes.
Fisher-Davis, who mistakenly believed Vanderbilt was down a point and misread a signal from Head Men's Basketball Coach Bryce Drew, immediately faced up to his error. "It was my dumb mistake why we lost," Fisher-Davis told reporters following the game.
After an onslaught of scathing remarks about busted brackets and a bad attitude—even guys at the local gas station still rib him about his errant foul—Fisher-Davis has been using the criticism as motivation to train even harder for the upcoming season.
"I wasn't my best last year. I had an up-and-down season. I need to be more consistent outside of just the basketball piece," Fisher-Davis recently told The Tennessean. "I felt like neglecting the whole situation [of last season] wasn't helping me get past it."
One of Vanderbilt's leading scorers, Fisher-Davis worked with a videographer friend to record a video he posted on Twitter in October. The video shows him running drill after drill in Memorial Gym while talking about the foul in a voiceover.
"Everybody had something to say," Fisher-Davis says in the video. "You killed my bracket. He doesn't care. He's not a team player." At the end of the video, he says simply, "Now listen to me."
Coach Drew says Fisher-Davis' ending play last season may turn out to be the best thing that could have happened to one of his star players. "It's turned his whole offseason [around]," Drew said at SEC Media Days in October. "He's been sensational all spring, all summer, this fall."
Fisher-Davis' performance leads the top scorers returning to the team this year, notching an average of 13.9 points per game. Seniors Jeff Roberson (10.8) and Riley LaChance (10.5) also return.
Vanderbilt opened its 2017–18 season Nov. 10 against Austin Peay State University.
---