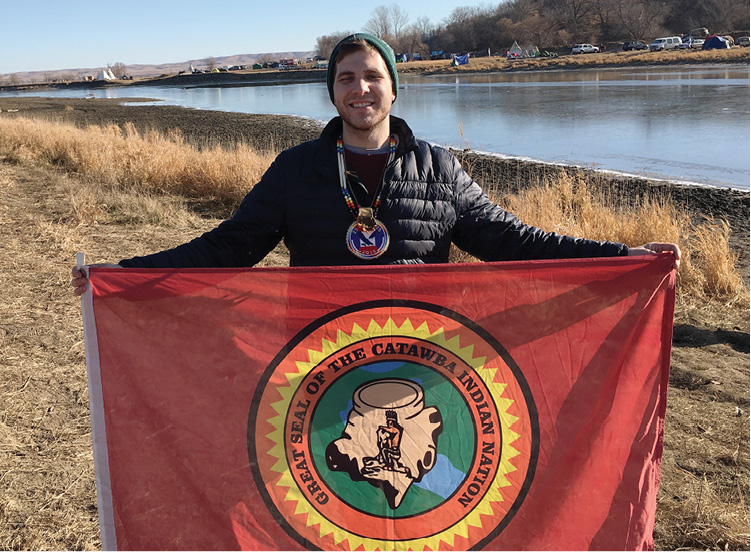 It's been 53 years since the Catawba language perished with the death of its last fluent speaker.
But DeLesslin "Roo" George-Warren, a member of the Indian nation that is the only federally recognized tribe in South Carolina—the reservation is based in Rock Hill—is working to breathe new life into his heritage. He's the recipient of a $10,000 Dreamstarter grant from the nonprofit Running Strong for American Indian Youth, which is funding his efforts to revive the native tongue.
"I don't talk about a language dying, but as going to sleep," says George-Warren, a language instructor at the Catawba Cultural Preservation Project. "I'm learning the language as I'm teaching it. One of the difficult parts is, how do we make this conversational? Particularly if there's not really anyone to have a conversation with."
The project started in March, and George-Warren is teaching tribal members, who number fewer than 3,000, in afterschool and community sessions. He posts vocabulary to Facebook, and he's at work on a language app.
His efforts are significant for another reason. In Catawba County, suicide is the second-leading cause of death among individuals 20 to 39 years old.
"When tribal youth have a strong connection to culture and are able to practice their traditional ways, they have much better outcomes in terms of suicide rate, drug-use rate and academic performance," George-Warren says. "So, at the very least, I do think having this as a resource is a life-or-death intervention."
Like recent generations of Catawbans, George-Warren didn't grow up with the language. In teaching the Catawba tongue, he's relying on the recordings of linguists who documented the lexicon in the late 1800s and early 1900s. It's a difficult task, to say the least.
"It's a very atomized language," says George-Warren, who recently returned home to Rock Hill after living the past few years in Washington, D.C. "There are a lot of suffixes, prefixes or interfixes, which go in the middle of a word. Then there are circumfixes, which go around a word. We might only have X number of base words, but when you consider all the permutations of it, it multiplies tenfold, at least."
George-Warren's efforts were influenced by his time at Vanderbilt. When he told Robbie Fry, senior lecturer in music history and literature, that he wanted to study Native American music, Fry suggested he read Custer Died for Your Sins: An Indian Manifesto by Vine Deloria Jr.
"It was one of the most beautiful things I've read, and it made me realize that my community is experiencing all these troubles not because there's an inherent defect in the community, but because of this long history of colonialism," George-Warren says. "It was really a transformative experience for me."
—ANDREW FAUGHT