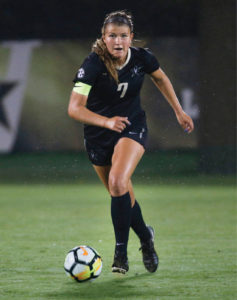 Grace Jackson, a second-year soccer standout from Atlanta, gives new meaning to the phrase"VU for Life." Her father, Hardie Jackson, BS'87, was a letter-winner on the Commodore baseball team from 1984 to 1985, cultivating in his daughter a lifelong affinity for all things black and gold.
"I would definitely say I was a Vanderbilt fan growing up," Jackson says. "I remember visiting campus and going to a few basketball games as a kid. When I started to look at schools, I always had Vanderbilt in the back of my mind because I knew how much my dad had loved it."
In 2016, Jackson landed at Vanderbilt as a freshman midfielder and wasted no time making a name for herself. She ended the regular season last year to lead the team in points (16), assists (six), and game-winning goals (three). Her efforts earned her a spot on the SEC's All-Freshman Team.
Jackson helped the 'Dores earn a No. 6 seed in the 2016 SEC tournament after a regular season that saw the Commodores upset No. 14 Texas A&M, and later win overtime road matches against SEC foes Tennessee and Mississippi State. The team eventually fell to No. 2 seed Arkansas in the SEC tournament.
Jackson's part in that memorable year came as no surprise to Head Soccer Coach Darren Ambrose.
"We said this all along, but Grace is the embodiment of what you're looking for in a college soccer player," he says. "She's a competitive kid and a natural leader. Even as a sophomore, her classmates look up to her. Grace is a bright kid, and she knows there's an opportunity to contribute even more this year."
Now Jackson sees that experience as an advantage in 2017.
"Many of us were kind of thrown into the fire, and we played a lot of minutes," Jackson says. "All the experience we gained last year is definitely helping us this season."
The Commodores began Jackson's sophomore season 9–3–1 and rode a seven-game unbeaten streak into a showdown with No. 9 Florida on Oct. 8. Jackson started every game during that stretch, chipping in three points at midfield.
She and other talented younger players joined a class of veteran teammates headlined by senior Cristina De Zeeuw and Lydia Simmons, BS'17, now a graduate student. The Commodores also added a spark of seniority this year in Stanford graduate transfer Stephanie Amack, who played in 60 career games with the Cardinal team and was the youngest player on the winning FIFA U-20 Women's World Cup team in 2012. Ambrose calls Amack "the most decorated player, on paper, to play in this program."
Plus, graduate student Simone Charley, BA'17—read a Winter 2016 Vanderbilt Magazine story about the track and field and soccer standout—returned in 2017 after a redshirt season last fall. Charley, an All-SEC honoree in 2013, 2014 and 2015, added a critical element of speed to Vanderbilt's roster.
"Simone is a big boost," Ambrose says. "She gives other teams something to worry about."
Putting these dynamics together excited Jackson as she prepared to navigate the 2017 season. As a freshman she got a taste of the Commodores' true potential. Now she hopes to help her childhood team take another step forward in the SEC.
"This Vanderbilt team is definitely on the rise," Jackson says. "We're getting better every year, and we can play a big role in the popularity of soccer in Nashville. We're growing just like the sport's support here in Nashville."
—ZAC ELLIS
---