Batter Up: Vanderbilt unveils $12 million baseball facility
Nov. 21, 2017, 10:18 AM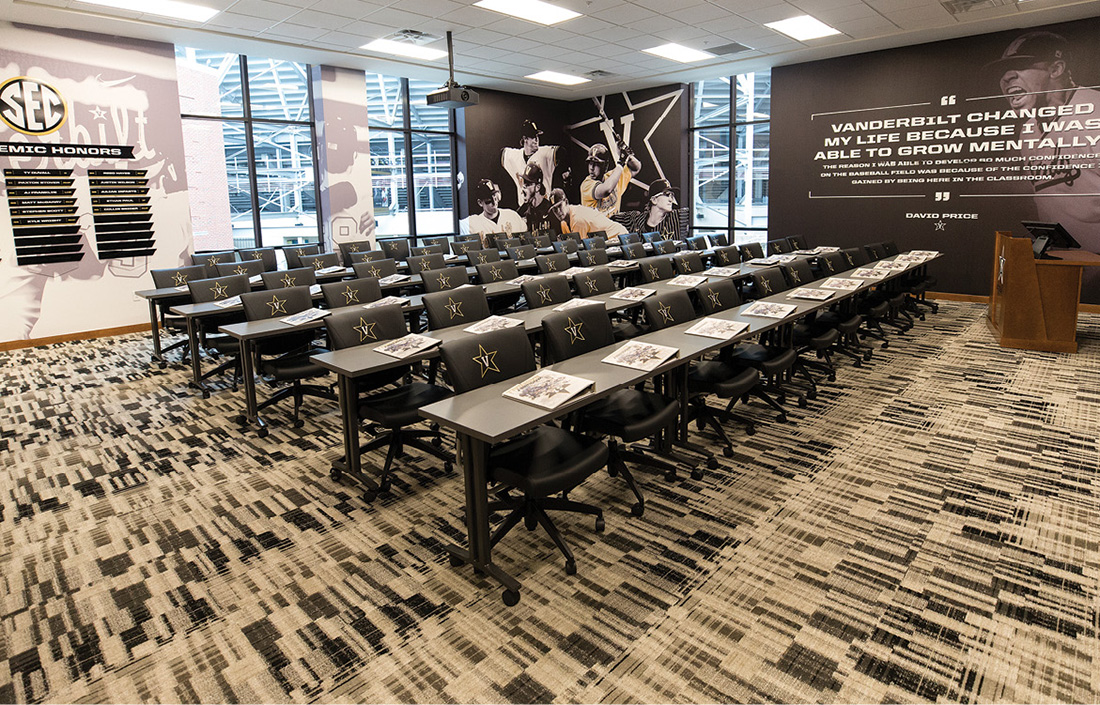 The start of the college baseball season may still be months away, but that's not stopping Vanderbilt from making a splash.
The Commodores unveiled a new $12 million, 30,000-square-foot baseball facility—fully funded by donors—in October, ahead of the team's annual Black and Gold Series, a best-of-three intersquad matchup that showcases the team's talent and gives them some on-field experience.
The facility includes an expansive open-air batting and pitching cage area, above which is a hydration station and workout room. The building also holds a training and cardio area, a weight room packed with equipment, and new offices and operations spaces.
Head Baseball Coach Tim Corbin's vision for the new facility was one that encourages interaction among current and former players. "It wasn't meant to be the most luxurious building," Corbin says. "More than anything, the idea was to create a home" for players and alumni.
Corbin's new office sits high inside the left field wall, overlooking the expanse of Hawkins Field. When baseball alumni poke their heads in for a look, he says, they should thank themselves.
"They built it. They're the ones who put this all together," Corbin says. "It was their achievements, their work habits that led to their successes."
At least 60 percent of athletes who have played under Corbin during his 15-season Vanderbilt tenure contributed to the facilities project. Last spring when some of the construction had been completed, Corbin expressed his gratitude for the facility's incorporation of the baseball program's present and past.
"That locker room for the former players—that's almost as much about me as it is about them," he said. "I just want to see them around. It's like a dad who knows his kids are in the house. I'm just glad they're here."
A week after the facility opened in October, the Commodores took to the field for the Black and Gold Series. In the final game, a pitcher's duel between Zach King and Jackson Gillis, both left-handers, led to a 5–4 win by Team Black, which prevailed 3–1 in the series overall.
—MAX SCHNEIDER
VANDERBILT HUSTLER
---