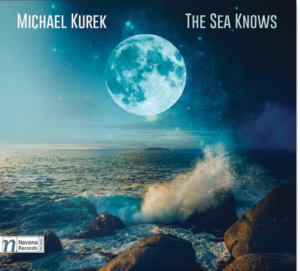 Michael Kurek, associate professor of composition, reached No. 1 on the Billboard Traditional Classical Album chart this summer with The Sea Knows, an album that continues his transition to more traditionally melodious music.
The Sea Knows, on the Navona label, features a lush, gorgeous sound in the traditional style of masters like Beethoven, Ravel, Brahms and Debussy. The recording, featuring the title track performed by the Vanderbilt University Orchestra, conducted and directed by Robin Fountain, professor of conducting, held the No. 1 slot on the chart for three weeks after its July 14 release.
Other tracks on the album include solo harp piece Moon Canticle, performed by Soledad Yaya from Argentina; Sonata for Viola and Harp, featuring Yaya on harp and Peter Pas on viola (Yaya and Pas play together under the name Duo Portinari); and Savannah Shadows, performed by the Atlantic Ensemble, consisting of Wei Tsun Chang, violin; Seanad Dunigan Chang, viola; and Blair cello instructor Kirsten Cassel Greer, violoncello. The tracks The Sea Knows and Savannah Shadows were recorded at Blair.
—Jim Patterson