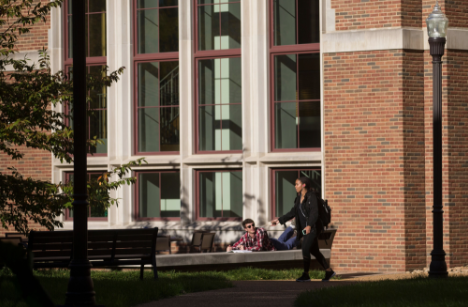 Vice Chancellor for Academic Affairs and Provost Susan R. Wente has named a new committee of faculty and staff members focused on developing the programmatic vision for Vanderbilt's College Halls.
Vanessa Beasley, dean of The Martha Rivers Ingram Commons, Vanderbilt's initial venture into residential colleges, will chair the Committee to Develop College Halls Programmatic Vision. She is joined by seven other faculty and staff members.
"This committee will build on the successes of the last decade in The Ingram Commons, which in many ways has been an incubator for effective undergraduate programming," Wente said. "As we build out our residential college system, the goal is to further enrich the relationship between the residential and academic experiences with impactful programming for our sophomores, juniors and seniors.
We are continually looking for new approaches to enhance our students' experiences in a way that educates the whole person and cultivates lifelong learning.
"We are continually looking for new approaches to enhance our students' experiences in a way that educates the whole person and cultivates lifelong learning—a core principle of Vanderbilt's Academic Strategic Plan. I look forward to the work of this committee."
In addition to The Ingram Commons, Vanderbilt's residential college system includes Warren and Moore colleges and E. Bronson Ingram College, which is currently under construction. Additional residential colleges are planned for Vanderbilt's West End neighborhood.
At the heart of Vanderbilt's residential college system are the networks of students, faculty and staff who come together to learn from each other, develop a sense of community and foster their own personal growth.
"I'm honored to be leading this committee that will further the vision of our living-learning communities," Beasley said. "What has made The Ingram Commons so unique is that we prepare our first-year students to manage the challenges of a rigorous academic environment while also instilling in them the ability to build a community of people with views different from their own.
"It is this programming work that will provide the foundation for our committee's work."
On The Ingram Commons, first-year students are welcomed into Vanderbilt Visions groups that help them form strong connections and support networks. Throughout their first year, students are supported by programming that continues to help them connect with faculty, become a part of the Vanderbilt community and discover their passions.
Through these efforts, students have the opportunity to take leadership roles in house government, student-led programming and inter-house activities, including the popular Commons Cup.
Additionally, Beasley hosts Dean's Dinners, bringing together first-year students with faculty members and guest speakers for lively conversation in an intimate setting. Similarly, each head of house offers regular programming, often with Vanderbilt faculty or community leaders as their guests. This fall The Ingram Commons has hosted evening programs for first-year students interested in undergraduate research.
The programming committee will convene regularly during the next four months and is to deliver a report to the provost in March 2018.
The committee members are:
Vanessa Beasley, committee chair, associate professor of communication studies, College of Arts and Science; dean, The Martha Rivers Ingram Commons
Frank Dobson, associate dean of students; faculty head of Gillette House, The Ingram Commons
Natalee Erb, assistant director of student initiatives, Office of the Dean of The Ingram Commons
Alyssa Hasty, professor of molecular physiology and biophysics, School of Medicine; associate dean for faculty development of the basic sciences, School of Medicine; faculty head of Murray House, The Ingram Commons
Sarah Igo, associate professor of history; director of American Studies, College of Arts and Science
Christopher Loss, associate professor of public policy and higher education, Peabody College
Traci Ray, director of residential education, Warren and Moore Colleges, Living-Learning Communities
Nilanjan Sarkar, professor of mechanical engineering and professor of computer  engineering, School of Engineering