WilSkills named 2017 football 'Greenest Group on Campus'
Nov. 10, 2017, 2:47 PM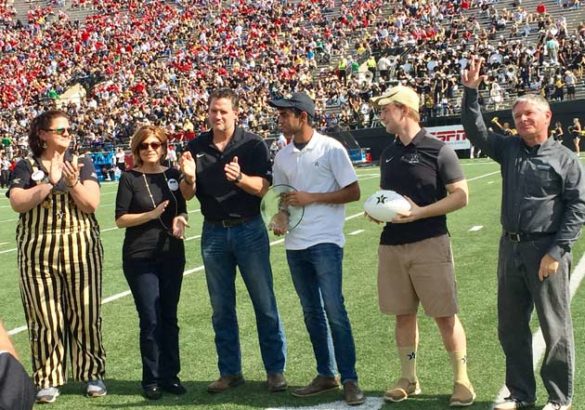 WilSkills, Vanderbilt's student-led wilderness skills course, was named winner of the 2017 Vanderbilt Football Sustainability Competition. The group celebrated its title of "Greenest Group on Campus" at the Vanderbilt versus Western Kentucky home football game Nov. 4 with a catered VIP tailgate event, an autographed item from Vanderbilt athletics, a 100 percent recycled engraved glass plate, and on-field recognition at the game. Accepting the award on behalf of WilSkills was Sidd Somayajula and Evan Mercer.
The sustainability competition, presented by Waste Management, Inc., the Vanderbilt Sustainability and Environmental Management Office and VU Athletics, invited all Vanderbilt groups, teams, departments, classes and campus organizations to compete for the title of "Greenest Group on Campus" by detailing the sustainable actions their group routinely implements to reduce, reuse or recycle; save energy or water; use mass transit and alternative transportation options; or any other innovative sustainability programs going on within their department or organization.
WilSkills is a pass/fail student-led course at Vanderbilt that is VU's premier outdoor experience. Run entirely by students, Wilskills is designed to integrate academic study with practical experience in the wilderness. WilSkills strives to make sure that all of its members at every level of the organization act in sustainable ways. WilSkills instructors enforce a "leave no trace" policy, meaning that every piece of trash and food waste is removed from any site they visit. They also assist in collecting recycling at stations around campus. WilSkills members are active participants in Cardboard Crew each year, helping to recycle the large amounts of cardboard boxes from move-in. For more information on WilSkills, visit the group's website.
Learn more about Waste Management, Inc. on their website and how they partner with Vanderbilt to "think green." For more information about Vanderbilt's sustainability accomplishments or how you can participate in future sustainability competitions, visit the SustainVU website or email sustainvu@vanderbilt.edu.
Contact: Sustainability and Environmental Management Office, 615-322-9022
sustainvu@vanderbilt.edu