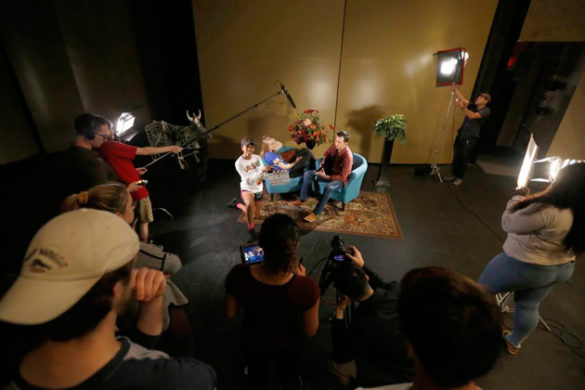 Vanderbilt Opera Theatre, Vanderbilt University Orchestra and the Department of Cinema and Media Arts present Mozart's The Marriage of Figaro 8 p.m. Friday, Nov. 10, and 2 p.m. Sunday, Nov. 12, in Ingram Hall at Vanderbilt's Blair School of Music. It will be opera as never seen before—as a present-day reality TV show.
Gayle Shay, director of Vanderbilt Opera Theatre and associate professor of voice at the Blair School, with the help of the Vanderbilt University Orchestra conducted by Jennifer McGuire and Jonathan Waters and his CMA students, will meld this beloved light opera into a reality television experience that shows very clearly, from century to century, nothing ever really changes.
"Our goal is to point out that the story is universal," Shay said. "We've lived it before, and we'll probably live through it again."
VOT produced Figaro about eight years ago with the Count and Countess Almaviva sung by faculty members in a straightforward adaptation of the original opera.
"This time it's almost all being sung by students," Shay said. "That shows how our voice program has grown. We now have people who are advanced enough to take on these roles."
The only nonstudent in the cast is Matt Brennan, BMus'14, currently finishing up a master's degree in voice at Cleveland Institute of Music. He sings the role of the Count, in this production an investment banker who often acts like a teenager and worries about his image.
Others in the cast, translated into reality show contestants, include the Countess (Samantha Long), once a child television star now divorced from the Count who wants him back; Dr. Bartolo (Joshua Sheppard), a former wrestler and current politician; and Bartolo's partner, Marcellina (Ilanna Starr), lately in the cast of Real Housewives of New Jersey. Lovers Figaro (Luke Harnish) and Susanna (Lauren Urquhart) are portrayed as an earnest singer-songwriter and pediatric intern.
Jonathan Waters, senior lecturer in cinema and media arts, and students in the CMA department have filmed webisodes that lead to the final episode of Marriage of Figaro on stage at Ingram. The CMA students will also livestream the production.
"When I had the idea and Jonathan said he was interested, as we started getting into it," Shay said, "we starting thinking 'what have we gotten ourselves into?' It's a complicated production, because the lighting for TV is different than for the theater and even the design has changed."
What has not changed is the music. "It is really some of the most beautiful music in opera, it's so heartfelt," she said. "Mozart understood how to take theater and put music into it without intruding on the story, but enhancing it.
"His work is done over and over for a reason."
The cast of Marriage of Figaro will be featured guests on Nashville Public Radio's Live in Studio C at noon Tuesday, Nov. 7, on WPLN-FM (90.3) and at 6:06 p.m. Thursday, Nov. 9, on Classical 91.
Sung in English and fully staged, the performances are sponsored by the Mary Cortner Ragland Master Series Fund and presented in memory of Michael Geracioti, through the generous support of Mark Dalton and others.