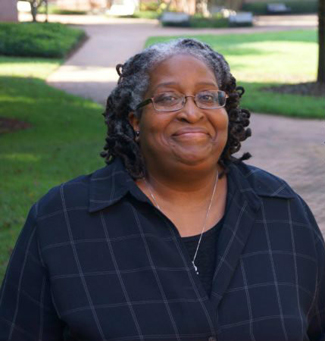 Marcia Y. Riggs, whose areas of expertise include womanist ethics, moral education and public policy, will deliver the 2017 Howard L. Harrod Lecture Thursday, Nov. 9, at Vanderbilt Divinity School.
Riggs' talk, "And God Said … What? Creation and Redemption in a World of Global Warming," will begin at 7 p.m. in the Reading Room.
Riggs, the J. Erskine Love Professor of Ethics at Columbia Theological Seminary, has developed a theory and practice called ethical religious mediation. Riggs said that she uses "poetry, science fiction, music and biblical insights to make a case for socially responsive moral agency amid the omnipresence of violence in a 21st-century world."
Riggs earned a doctorate in religion from Vanderbilt in 1991. She is a recognized authority on the black woman's club movement of the 19th century, the subject of her first book, Awake, Arise, and Act!: A Womanist Call for Black Liberation. Her other books are Can I Get a Witness?: Prophetic Religious Voices of African American Women, an Anthology; and Plenty Good Room: Black Women versus Male Power in the Black Church. She is a co-editor of Ethics That Matters: African, Caribbean, and African American Sources. Her theological commentary on Ruth and Esther is forthcoming.
Riggs has been awarded a 2017-18 Luce Fellowship from the Association of Theological Schools for her research on "Envisioning and Practicing Beloved Community in the 21st Century." She was an ordained minister in the African Methodist Episcopal Zion Church for 15 years and is currently ordained by the Hillside International Truth Center.
The Howard L. Harrod Lecture was established to honor Harrod, the Oberlin Alumni Professor of Social Ethics and Sociology of Religion, who taught for more than 30 years at Vanderbilt. Harrod worked extensively in environmental ethics and activism and was an advocate for new ways of understanding the relationships of humans with the animal and natural worlds.
Past Harrod Lecturers include Catherine Keller, Ray Suarez, David Loy, Tom Dillehay, Mark D. Jordan, Norman K. Gottwald, Melissa Snarr and Dennis Dickerson.
Video of Riggs' lecture will be posted after the event on the Vanderbilt Divinity YouTube channel. For more information, contact Sha'Tika Brown or call 615-936-8453.