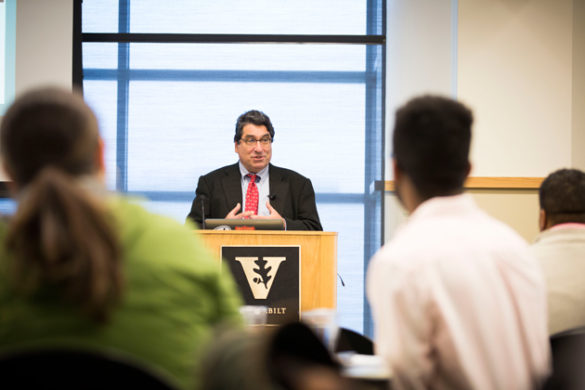 Journalists from across the country traveled to campus last week to hear from Vanderbilt's chancellor, experts and others about big issues likely to shape the Trump administration's second year.
The reporting institute, organized by journalism think tank and training group Poynter, spanned Thursday through Saturday and met in the First Amendment Center and The Commons Center. The sessions covered global trade, the Affordable Care Act, cybersecurity, climate change and hate groups.
Chancellor Nicholas S. Zeppos addressed the group of 33 Friday on the topic "The Future of Universities in America," discussing free speech, research advances and financial aid. He pointed out the similar attacks faced by academia and the media.
It's a tough environment, but keep up the fight. We really need you.
"I've been heartened, since the election, that our experts in our university have been called upon more than ever by the brave, creative people in your profession asking, 'Can I learn more about this topic?'" Zeppos said. "[rquote]It's a tough environment, but keep up the fight. We really need you."[/rquote]
Sayeh Nikpay, an assistant professor in the Department of Health Policy, discussed motivations behind passage of the Affordable Care Act and used her personal experience of fighting a brain tumor to explain the act's benefits. Without it, she could have hit her lifetime benefits max, and certainly her condition would have been excluded from future health insurance policies.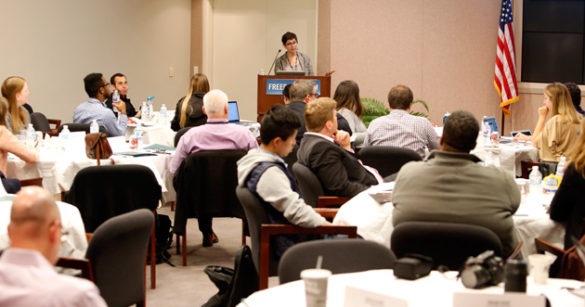 She also discussed the plight of those who remain in a coverage gap: people who are too poor to afford the federal marketplace but are living in states, such as Tennessee, that chose not to expand Medicaid coverage.
Jules White, assistant professor of computer science, began his presentation by asking a volunteer from the audience if he'd be willing to wear Google Glass for three months, recording everything except bathroom time, turning over all of their passwords and logging into all public WiFi points.
"How much would I be paid?" asked the volunteer, Valley News Live's Cornelius Hocker of Fargo, North Dakota.
"You'll pay for the privilege of doing it," White replied, adding that we do the same things with our mobile phones every day. He discussed mobile's vulnerabilities and how to best protect against them.
Janey Camp, research associate professor of civil and environmental engineering, talked about America's aging infrastructure, recently awarded a D+ on the American Society of Civil Engineers' 2017 report card. It's not ready to stand up to increasing numbers of extreme weather events brought on by climate change, she said.
"Let's build for the future, not for what was," Camp said. She shared several links where reporters could learn more about adapting infrastructure.
Sophie Bjork-James, assistant professor of the practice in anthropology, closed out the presentations on Saturday by discussing her research on the contemporary white supremacist movement. To understand what's happening today, she said, one must look back to the Ku Klux Klan normalizing violence against African Americans following the Civil War.
"I guarantee, wherever you are in the United States, you can document a history of violence against people of color," she said.
She discussed modern white nationalist figures' efforts to build a cyber community and normalize their ideas to a new generation.
The journalists who participated in the event formed teams to come up with reports on each subject, which they'll file to Poynter in the coming weeks.
The institute was funded by the Robert R. McCormick Foundation.