Media Inquiries
Latest Stories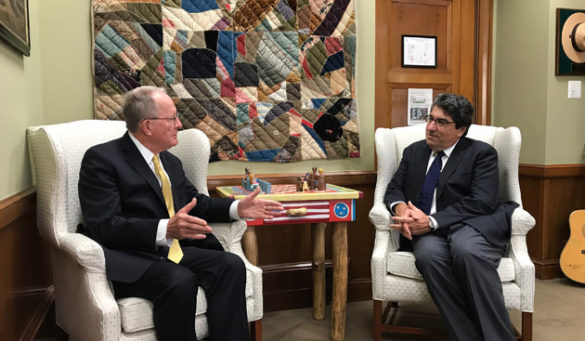 Vanderbilt University Chancellor Nicholas S. Zeppos thanked members of Congress during a visit to Capitol Hill this week for rejecting the administration's proposed budget cuts that would cripple American innovation and economic growth. He urged members to complete their work on the FY 2018 appropriations bills this year and encouraged them to reach a bipartisan budget agreement that would increase defense and non-defense discretionary spending.
"This funding is the epitome of a relationship that works," Zeppos said. "The American government partnering with American universities and research entities to advance the quality of life for all people, both in the United States and around the world."
Zeppos made his pitch during a visit to members of the Tennessee congressional delegation and other federal policymakers. In particular, he thanked members for rejecting the administration's proposed cuts to facilities and administrative cost reimbursements while simultaneously praising lawmakers for their continued strong bipartisan support for biomedical research and other investments in research and education. As Congress pivots to tax reform in the coming weeks, Zeppos also made the case for the importance of preserving the ability of donors to direct their charitable contributions as they see fit and to receive a charitable deduction for such donations. He also spoke to the importance of the university's endowment in supporting Opportunity Vanderbilt, the university's undergraduate financial aid program that meets 100 percent of an admitted student's demonstrated financial need with a package that does not include loans. Donors have provided more than $250 million in gifts and pledges for undergraduate scholarship endowment since Opportunity Vanderbilt was launched in 2009.
The Office of Federal Relations, which coordinated Zeppos' visit, has spearheaded a variety of advocacy efforts this year in coordination with various associations and coalitions to which Vanderbilt belongs. This is to ensure continued strong support for federal investments in science and engineering research and education and to protect the university's priorities in tax reform.
"Now more than ever, it is critically important for our federal policymakers to understand how important federal support—both through annual appropriations and the tax code—is to the research and education that take place on Vanderbilt's campus," explained Christina West, assistant vice chancellor for federal relations. "Policymakers need to understand that federal funding for scientific research has consistently paid enormous dividends, fortifying our health, economic and national security."