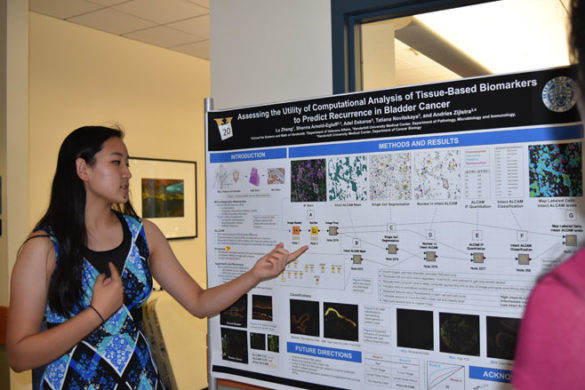 Lu Zheng, a senior at Hume-Fogg Magnet High School in Nashville, has been recognized as a semifinalist in the national Siemens Competition in Math, Science and Technology. Zheng was selected for work on research projects conducted as a participant in the School for Science and Math at Vanderbilt (SSMV).
Zheng's research project, "Assessing the Utility of Computational Analysis of Tissue-Based Biomarkers 
to Predict Recurrence in Bladder Cancer," was selected from nearly 2,000 projects submitted. Zheng is one of nine semifinalists from Tennessee and 491 semifinalists overall.
Zhen conducted the research under the mentorship of research assistant professor Shanna Arnold, in the laboratory of Andries Zijlstra, an assistant professor in the Department of Pathology, Microbiology and Immunology and the Department of Cancer Biology at Vanderbilt University Medical Center.
SSMV is a program of the Vanderbilt Center for Science Outreach and the Department of Teaching and Learning at Vanderbilt's Peabody College of education and human development. SSMV offers high school students a four-year interdisciplinary, research-centered learning experience. High achieving students selected for SSMV attend instruction at Peabody's Wyatt Center one school day per week throughout high school, and conduct a final research project in collaboration with Vanderbilt researchers.
SSMV is a joint venture of Vanderbilt University and Metropolitan Nashville Public Schools. It has been supported by the National Institutes of Health NCRR Science Education Partnership Award, MNPS and others.
Contact: Angela Eeds, (615) 322-7132
angela.eeds@vanderbilt.edu