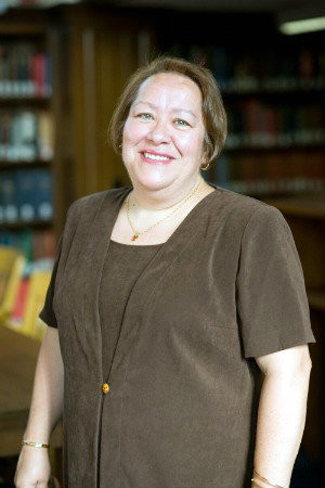 Daisy L. Machado will examine what lived religion looks like in the borderlands—places where culture, race, identify and religion intersect in complicated and even violent ways—when she delivers the 2017 Cole Lectures Oct. 26-27.
Machado, professor of church history at Union Theological Seminary, said that her talks will focus on how religion crosses borders, including how some marginalized groups from other nations bring unorthodox beliefs with them when they settle in the United States.
Machado's two talks, "Of Marginal Identities and Heterotopic Saints: Lived Religion in the Borderlands," will be in Benton Chapel at 7 p.m. Oct. 26 and at 10 a.m. Oct. 27.
"An example of the unorthodox religiosity found in Mexico that has crossed the border into U.S. cities is the 'pseudo-saint' Santa Murerte," Machado said. "We will look at the connections between marginality and belief as expressed in the worship of this heterotopic—meaning non-orthodox—saint."
Machado's scholarship focuses specifically on U.S. Christianity. She earned a bachelor of arts from Brooklyn College, a master of social work from Hunter College School of Social Work, a master of divinity from Union Theological Seminary and a doctor of philosophy from the University of Chicago.
A native of Cuba who grew up in New York, Machado's many "firsts" have included being the first U.S. Latina ordained in the Christian Church (Disciples of Christ) in 1981. She served congregations in Brooklyn, Houston and Fort Worth.
She also became the first co-director with Justo González of the Hispanic Theological Initiative, which strives to increase the presence of Latina/o faculty teaching in seminaries, schools of religion and religion departments around the country. In addition, Machado was the first Latina dean of any theological seminary in the United States when she served at Lexington Theological Seminary, where she also was vice president for academic affairs.
Machado teaches and writes about borderlands issues, including the Mexico-U.S. border, and she is the author of Borders and Margins: Hispanic Disciples in the Southwest, 1888-1942. She co-edited A Reader in Latina Feminist Theology: Religion and Justice.
Philanthropist Edmund W. Cole, president of Nashville & Chattanooga Railroad and treasurer of the Vanderbilt University Board of Trust, endowed the annual Cole Lecture Series in 1892 "… for the defense and advocacy of the Christian religion." Cole's gift provided for the first sustained lectureship in the history of Vanderbilt University.
Previous Cole Lecturers include Harry Emerson Fosdick, George Buttrick, H. Richard Niebuhr, Paul Tillich, James Barr, Gustavo Gutierrez, James Cone, Edward Farley, Don Beisswenger, Gene TeSelle, David Buttrick, Jim Wallis, James Lawson, Elaine Pagels, Tex Sample, Nikky Finney and Ingrid Mattson.
For more information, email Sha'Tika Brown or call 615-936-8453.