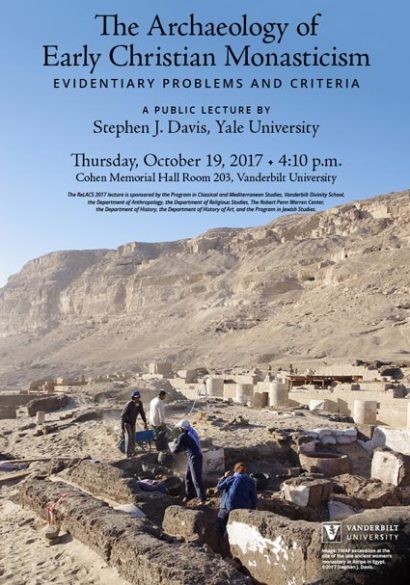 Scholars and students from across the South and Midwest who have a research-based interest in the Late Antiquity will be on campus Oct. 19-20 for a regional workshop hosted by the Program in Classical and Mediterranean Studies, Vanderbilt Divinity School and the Center for Digital Humanities.
Late Antiquity is defined generally as the period in Mediterranean history between 250 and 750 A.D., which was a time of tremendous cultural and political changes, including the end of the Roman Empire and the formation of rabbinic Judaism, Christianity and Islam.
"We are excited to welcome and engage with cross-disciplinary researchers from across the South and the Midwest for the 2017 Regional Late Antiquity Consortium," said Joseph Rife, associate professor of classical and Mediterranean studies and founding program director.
Other participating Vanderbilt faculty include Annalisa Azzoni, senior lecturer in Hebrew Bible; Ari Bryen, assistant professor of classical and Mediterranean studies and history; William Caferro, Gertrude Conaway Vanderbilt Professor of History; Kathy L. Gaca, associate professor of classical and Mediterranean studies; Phillip I. Ackerman-Lieberman, associate professor of Jewish studies and law; David Michelson, assistant professor of the history of Christianity and history; and Betsey Robinson, associate professor of history of art.
Stephen J. Davis, professor of religious studies and Near Eastern languages and civilizations at Yale University, will deliver the opening keynote lecture, "The Archaeology of Early Christian Monasticism: Evidentiary Problems and Criteria," Oct. 19. His talk begins at 4:10 p.m. in 203 Cohen Memorial Hall.
Davis' lecture will present a reassessment of what scholars know (and how they know what they know) about the archaeological evidence for Christian monasticism during the first millennium.
Friday's sessions will take place in the Divinity School's Reading Room and at the Center for Digital Humanities.
Among the sessions designed to equip teachers and researchers, Ackerman-Lieberman will introduce the workshop participants to resources and tools for using the Cairo Geniza, the largest collection of documentary materials from the premodern Islamic world, in teaching and research. "The Cairo Geniza is a critical resource for the social, economic, legal and political history of the reception of antiquity into the medieval Mediterranean," Lieberman said.
Additional sponsorship for the workshop has been provided by the Anthropology, History, Religious Studies and History of Art departments; the Program in Jewish Studies; and the Robert Penn Warren Center for the Humanities. The conference is held annually at Vanderbilt, the University of Tennessee or the University of Kentucky.
The keynote lecture is free and open to the public. Interested scholars are invited to register for the workshop.