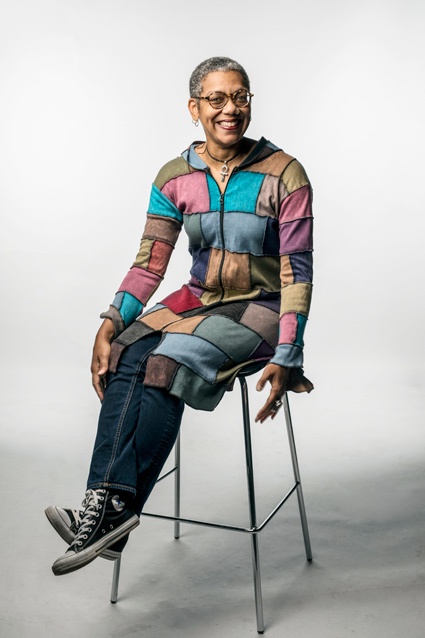 Middle Tennessee gains a community activist along with a respected historian with the addition of Rhonda Y. Williams to the Vanderbilt faculty.
"The more you move through the world and pay attention, the less you're able to turn away from inequality—at least that's the case with me," Williams said. "Fairness and justice and equality need to be core values, along with human dignity and respect."
Williams is the inaugural John L. Seigenthaler Chair in American History at Vanderbilt. In Cleveland, where she taught for two decades, some know her as one of the Cleveland 8, activists who filed citizen affidavits that led a judge to find probable cause for charges against the police officers involved in the 2014 killing of 12-year-old Tamir Rice. The officers ultimately were not charged with any crime in relation to the incident, but Rice's family was awarded $6 million in a settlement with the city.
Growing up in Baltimore the daughter of two civil servants, Williams grew increasingly curious about how race shaped people's perceptions and opportunities, including in education and housing. More focused reading and studying as an undergraduate and in graduate school helped her to begin "understanding in a more nuanced way," she said.
The first person in her family to graduate college, Williams was also the first African American to be salutatorian in the then 187-year history of the University of Maryland, College Park.
Next, she was hired by the Charlotte Observer as a reporter. "I started the minority interest beat. I wanted to make sure there was some focused, intentional coverage that didn't just look at when crimes or bad things happened in the community," Williams said. "What about community programs and cultural events and people who are doing good in the community?"
After three years in journalism, she returned to school as a graduate student at the University of Pennsylvania. There, she was mentored by Mary Frances Berry, former chairwoman of the United States Commission on Civil Rights and a historian at Penn.
"One of my favorite photos of her was when she was getting arrested in an anti-apartheid protest in front of the South African embassy," Williams said. "[rquote]She showed that it was possible to do deeply researched scholarly work and to also be engaged with the community around issues of civil rights and social justice, and have them work together."[/rquote]
Hired by Case Western Reserve University, Williams founded and directed the Social Justice Institute and the postdoctoral fellowship in African American studies there. She is the sole author of two books, Concrete Demands: The Search for Black Power in the 20th Century and The Politics of Housing: Black Women's Struggles Against Urban Inequality.
Williams won Case Western's inaugural Inclusion and Diversity Achievement Award in 2009 and was recognized the same year as a Top Young Historian by the Organization of American Historians.
She emphatically believes that history is critical to understanding inequality and power as well as grappling with models for social change. "People don't know the history and they don't know the inner workings and dynamics of systems and structures," Williams said. "Even those of us who do the work are constantly learning—I know I am. I'm a work in progress."
View the complete list of new Vanderbilt University faculty for 2017-18.