Media Inquiries
Latest Stories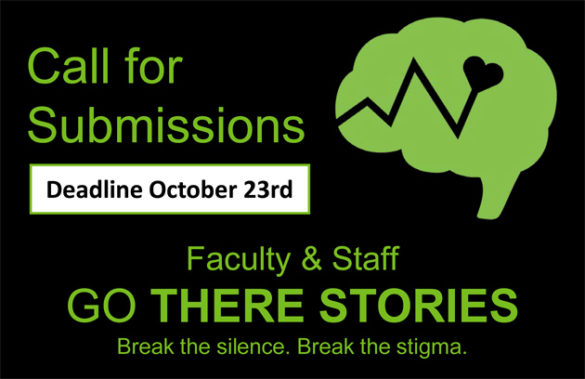 As part of the campuswide GO THERE mental health campaign, the Office of the Chancellor invites submissions for "Faculty & Staff GO THERE Stories," a gathering of sharing, listening and solidarity around the subject of mental health and well-being. The event will take place on Wednesday, Nov. 8, from 2 to 4 p.m. in the Alumni Hall Reading Room. Submissions may be in the form of stories on topics such as:
personal struggle with mental illness
overcoming personal or public stigma around mental health care
supporting loved ones through mental health challenges
neurodiversity and identity
grieving the loss of a family member or loved one
recovery and self-care
management of illness, self-care and coping skills
Submissions in the form of appropriate selected readings and other creative performances are also welcome.
Participation in this event is completely voluntary. Further details about the event will be provided to anyone who submits an expression of interest.
Eligibility and guidelines:
Participation is open to all VU faculty and staff members. Stories will be presented at an event open to all VU faculty and staff.
Stories must be limited to 10-minute presentations (approximately 1200 words).
Groups of up to four participants may collaborate; all participants must be listed on the submission proposal for presentation consideration.
Stories must be focused on participants' personal experiences.
All stories must be shared prior to final screening. Not all stories submitted will be chosen for the presentation. Stories will be chosen to offer, to the greatest extent possible, a variety of voices, experiences and viewpoints as well as to ensure appropriate content and length.
If you are interested in participating in this event, complete this form and fill in all required fields. Please note that for this initial expression of interest, you do not need to prepare or submit the details of your story, just complete the expression of interest online form, which includes a two- to three-sentence summary.
Deadline for submission is Oct. 23 at 11:59 p.m.
For more information or if you have questions, please contact Linzie Treadway at linzie.treadway@vanderbilt.edu.