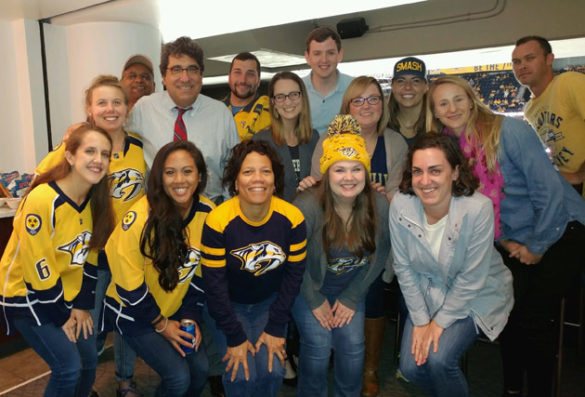 Seven lucky Vanderbilt staff members joined Chancellor Nicholas S. Zeppos at the Nashville Predators' season opener Oct. 10 at Bridgestone Arena, where they watched the game from a private box. The staff members and their guests were winners of the #UnitedInGold social media contest.
In partnership with the Office of the Chancellor, the Division of Communications promoted the contest, in which entrants were asked to post a photo of themselves holding up either the "VU" hand sign or the Predators' "fang fingers," along with the hashtag #UnitedInGold. More than 80 entries were received via Twitter, email and Instagram. To see a few of the winning entries, visit the Get Social website.
Keep up with the latest news and events by following Vanderbilt on social media: Facebook, Twitter, Instagram, Tumblr, YouTube, LinkedIn, SnapChat and Pinterest.
by Aaliyah Symlar
---