Lane closures on Medical Center Drive Oct. 14
Oct. 10, 2017, 2:54 PM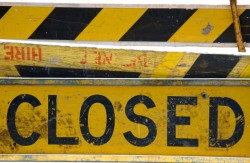 From 6 to 11 a.m. Saturday, Oct. 14, Medical Center Drive will be reduced to one southbound and one northbound lane each of traffic from the pedestrian crosswalk in front of Vanderbilt University Hospital to the south exit of the hospital.
VUPD officers and flagmen will be on site to help with vehicular and pedestrian traffic.
The reason for this work is to set up a concrete truck for the continuing renovation of the eighth floor of Medical Center East.
If you have any questions, please contact Terry Ralph at 615-715-1257.