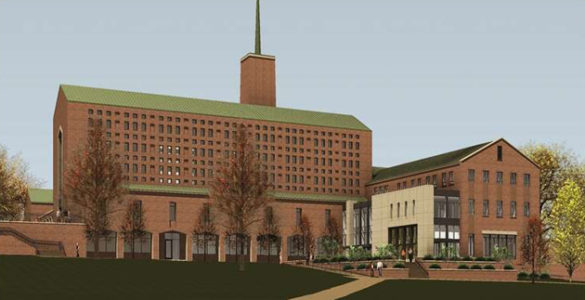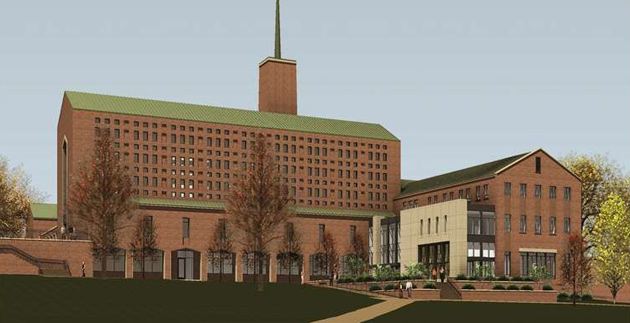 A significant portion of the front of the Vanderbilt Divinity School building that faces 21st Avenue South has been removed—one of many signs of progress on the building's $11.5 million renovation and 13,641-square-foot addition.
"[rquote]A renovated building is a critical need for the Divinity School,"[/rquote] said Emilie M. Townes, dean of the Divinity School and the E. Rhodes and Leona B. Carpenter Professor of Womanist Ethics and Society. "With these improvements, we will not only have better teaching and gathering spaces, we will create a more collaborative environment, a place where our community can discover, question and create change."
Since the groundbreaking last May, construction crews have been busy on building fundamentals, such as water and sewer utility lines and footing for the new space's foundation.
Interested individuals can monitor the various stages of construction by clicking on a live webcam.
"Those who are familiar with our Divinity space have probably noticed that a large staircase on the 21st Avenue side is gone, and two doors that used to be on the inside at ground level are now outside," said James P. Byrd, associate dean for graduate education and research and associate professor of American religious history. He also serves as chair of the Graduate Department of Religion and faculty liaison to the construction project. "We are still on track to finish phase one and two of the project, including a new multipurpose space for worship and other events by late August 2018.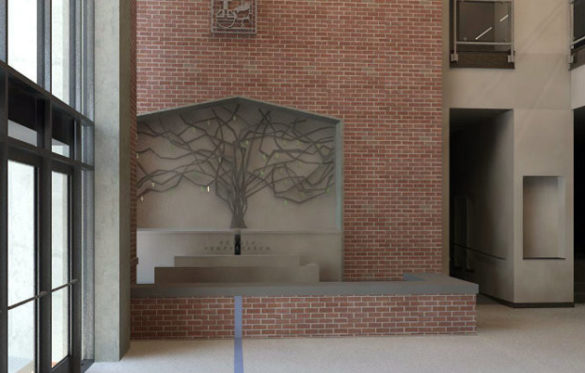 A custom-made art work—a striking tree sculpture—has been designed for the main entrance of the new addition, anchoring the light-filled lobby with the new multipurpose worship space. The sculpture is framed by an existing masonry arch at the base of Benton Chapel, and integrates the addition with the existing building. It is coupled with a meditative fountain wall, and reflects the culture of the school by celebrating the divine nature of beauty and the symbolic connection of growth and knowledge.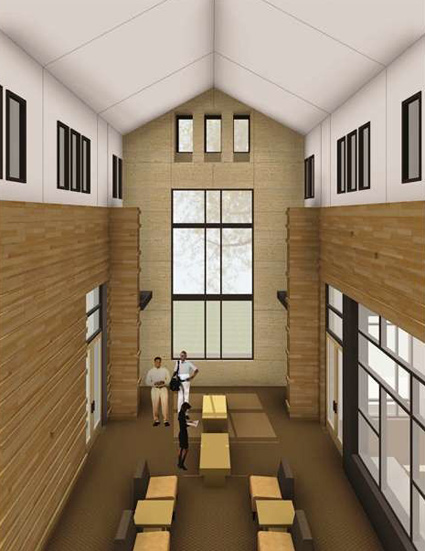 Other features include new classrooms equipped with smart technology to spark innovation in teaching and learning; conference rooms with dedicated space to foster collaboration between faculty and students; an outdoor terrace for solitary reflection, small group gatherings and larger events; additional spaces for group meetings and gathering places for standing weekly events, such as Monday Forum, Wednesday Worship and Friday Coffee Hour; and office suites for administrative and program leaders to foster collaboration among faculty, students and staff.
Townes noted that the school is committed to growing responsibly in a way that respects the environment. Energy efficiency continues to be a priority, and the school will pursue LEED certification.
The public phase of the fundraising campaign to support the Divinity School renovation and addition is fully underway, according to Kitty Norton, assistant dean for development and alumni relations. For information on philanthropic naming opportunities for new and renovated spaces, please email Kitty Norton or call 615-322-4205.