Media Inquiries
Latest Stories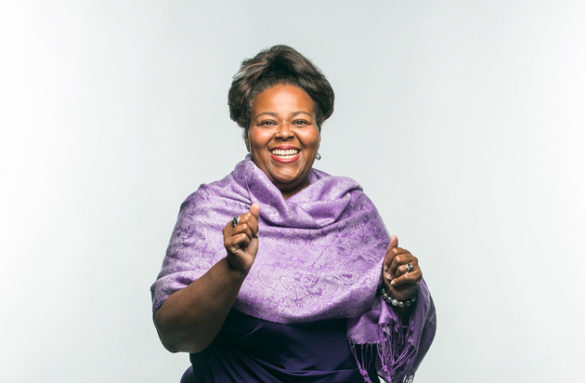 Melissa Thomas-Hunt, Vanderbilt's inaugural vice provost for inclusive excellence, sees a big part of her new role as breaking down the traditional notions of "diversity."
"I think a lot of times when people hear the word diversity, they think there are groups of individuals who are part of diversity and those who are not," she said. "But diversity encompasses everybody—the entire fabric."
Our concepts of diversity typically fall along the lines of race, ethnicity, gender and religion, she said, but diversity also means sexual orientation, gender identity, people with disabilities, those with different political ideologies and more.
"I like to say that a major part of my role is ensuring that every faculty member and every student can fully avail themselves of all the potential that Vanderbilt has to offer—that we make sure they flourish and thrive here for the very reasons that we wanted them to be in this community," Thomas-Hunt said. "That means that they are empowered to contribute, that they feel valued, that they have a sense of belonging, and that they are seen.
"It's a big charge and one that I'm committed to, and I know lots of other people here at Vanderbilt are as well," she said.
Inclusive excellence
Thomas-Hunt, who came to Vanderbilt from the University of Virginia's Darden School of Business, was appointed July 1 by Provost and Vice Chancellor for Academic Affairs Susan R. Wente to build on the efforts already underway in the provost's office and across Academic Affairs to create a welcoming environment for students, faculty and academic staff and to help advance equity, diversity and inclusion in the trans-institutional research and education missions of the university.
The "inclusive excellence" portion of her title echoes remarks Chancellor Nicholas S. Zeppos first made in fall 2016, when he asked faculty to take stock of the strides Vanderbilt had achieved in terms of creating a more inclusive learning environment, as well as challenged them to look forward.
"What does our community look like? How do we invite people into our community? What are the structural, physical and psychological barriers in our environment?" Zeppos asked the assembled faculty. "We have to be intentional in these efforts. How do we show that mutual respect and develop the rich potential of everyone on our campus?"
Thomas-Hunt said responding to this challenge is an ever-evolving task, but one that will make Vanderbilt a richer, more productive place.
"Vanderbilt is a phenomenal educational institution, so it's really important to put front and center that we're always thinking about excellence," she said. "The inclusive piece is the piece that says, the more that we welcome people who bring a diversity of perspectives, experiences, backgrounds and political views, the better we can leverage those attributes to create an academic environment that's going to allow individuals to excel as well as allow the university to continue to be at the forefront of the educational landscape."
Value of education
A native New Yorker, Thomas-Hunt was raised in the Bronx by a pair of educators who instilled in her the value of education and its ability to improve lives and raise awareness of the broader world.
Her mother taught math to struggling learners, and her father was an administrator of equal opportunity programs for the State University of New York. Thomas-Hunt remembers as a child traveling with him to New York City's various boroughs to recruit deserving students.
I think part of the reason I'm so drawn to the work that I do—and in particular, this position at Vanderbilt—is because I think that with students, faculty and staff, we have the opportunity to make a difference in the world.
"Both of my parents were very active not only in their professional capacities, but also within the community in terms of service. So there was always this idea that you have to give beyond your immediate family," she said. "I think part of the reason I'm so drawn to the work that I do—and in particular, this position at Vanderbilt—is because I think that with students, faculty and staff, we have the opportunity to make a difference in the world. We're trying to ensure that a broader array of individuals are going to have opportunities, be well-educated, and be able to contribute as global citizens."
Thomas-Hunt attended Princeton University and majored in chemical engineering, but an experience running a student agency her senior year gave her a taste for business. At the time, IBM was recruiting recent engineering graduates in an effort to make its sales force more technical, so Thomas-Hunt signed up for a three-year stint as a marketing rep selling computer hardware and software and managing the client relationship with her primary customer, Chemical Bank, now JPMorgan Chase.
"During this time I became very interested in group dynamics and negotiations, so I started taking some classes. I found this field called organizational behavior, which was the perfect marriage of psychology and sociology and economics, all in the context of business," she said.
Team dynamics
Thomas-Hunt enrolled at Northwestern University's Kellogg School of Management, where she focused on studying team dynamics. At the time, corporations and organizations were putting a lot of emphasis on team processes and their role in critical decision-making, she said.
"The way that the research was being conducted, the assumption was that teams were not hierarchical and that everyone's contribution was equally valued—but this was in contrast to my own experiences, both as a college student working on teams and in professional settings," she said. "I knew that teams were status-differentiated and not everyone's expertise was valued the same way."
Thomas-Hunt began looking at the contributions of women on teams, particularly in contexts where women were historically underrepresented. She also looked at race, ethnicity and perceptions of competence. She found that teams suffered when the expertise of these groups wasn't utilized.
The takeaway is, you want to make sure you're fully leveraging the talent and expertise that you have, and you're not if everyone's voice isn't being heard.
"In assembling a team, you're trying to pull together individuals who have different pools of expertise and leverage that toward some problem or challenge. But if not everyone's expertise is actually being integrated, then the teams are failing on the very dimension for which they were brought together," she said. "The takeaway is, you want to make sure you're fully leveraging the talent and expertise that you have, and you're not if everyone's voice isn't being heard. This research catapulted me into the world of diversity and inclusion."
Thomas-Hunt earned her master's degree and Ph.D. from Kellogg and went on to faculty positions at the business schools of Washington University in St. Louis, Stanford and Cornell before arriving at the University of Virginia's Darden School, where she served as senior associate dean and global chief diversity officer.
Her research and teaching interests have focused on conflict management, negotiation and inclusive leadership within global teams and organizations. She spent numerous years teaching negotiation to executives and served as faculty leader for The Women's Leadership Program at the Darden School.
In addition to her appointment as vice provost for inclusive excellence, Thomas-Hunt holds an appointment as professor of management at Vanderbilt's Owen Graduate School of Management. Her current research centers on the effects of status and power on negotiation processes and outcomes and the evaluation and integration of expertise within diverse groups.
Touch points
As vice provost for inclusive excellence, one of Thomas-Hunt's primary goals is to build on Vanderbilt's reputation as a welcoming environment that attracts the best and brightest students, faculty and staff.
"Part of that means that we are able to reach out and to signal what our core values are, and that individuals who come here experience a climate and a culture that they feel is welcoming," she said. "That ends up being the best message to the broader community.
"We have lots of touch points," she continued. "We have our students who are coming in, and depending on whether they're undergraduates or graduate students, the amount of time that they're with us varies. But then they go off into the world and become beacons and messengers, so the extent to which they've had good experiences becomes generative and comes back to us."
Thomas-Hunt describes faculty recruitment and retention as a "two-way evaluation process," one that she endeavors to make positive for both parties no matter the ultimate outcome.
There are all sorts of reasons why faculty end up in the community or not in the community, and we want them to have good experiences and to feel that they are valued and supported.
"There are all sorts of reasons why faculty end up in the community or not in the community, and we want them to have good experiences and to feel that they are valued and supported," she said. "While we would love for them to stay here, there are myriad reasons why faculty members may be pulled away. We'd like for those reasons to be that they got an incredible opportunity to which they just couldn't say no, but they then turn to others and say, 'Vanderbilt is a phenomenal place. I had a great experience, I was treated well, I was productive—and you should absolutely be part of that community.' And I view that as a success as well."
Thomas-Hunt anticipates working closely with Vanderbilt's Office for Equity, Diversity and Inclusion and Interim Vice Chancellor and Chief Diversity Officer Tina L. Smith.
"We're one community, and while my direct purview is students and faculty and the Office of EDI is focused on staff in particular, we all should speak the same language," Thomas-Hunt said. "We must communicate that we have the same values, so we are working closely with one another to make sure that we are in synch. There are lots of ways in which we are collaborating in terms of workshops, supporting programming and other educational opportunities."
Bridging divides
Thomas-Hunt has her sights set on how the university can prepare students, faculty and staff to fulfill a key tenet of the Vanderbilt mission: being of service to the broader community beyond campus and to society at large.
The world, particularly these days, is not wrapped up with a tidy bow. The problems are thorny. You can't look at them through one lens or one skin or one perspective.
"The world, particularly these days, is not wrapped up with a tidy bow. The problems are thorny. You can't look at them through one lens or one skin or one perspective," she said. "The more that we can bring together people from different disciplinary backgrounds who have different experiences and perspectives, the better we'll be able to get a handle on addressing these issues."
To help students and faculty reach beyond their own experiences, the university must engender an open environment that fosters genuine dialogue and trust. This process won't always be easy or comfortable, she said.
"You have to assume positive intent. You have to acknowledge that people are going to stumble and say the wrong things. But if the spirit is one of trying to learn and understand, then we have to be forgiving of those missteps," she said. "It's an ever-evolving landscape, and we're not always sure what's on the other side of the horizon. We've just got to be open to the possibilities."
By its nature, higher education has enormous potential to bridge social, economic and cultural divides.
"Coming to Vanderbilt is a phenomenal opportunity for anyone—first-generation students, continuing-generation students—there are so many resources available," she said. "The critical message for students is that they should avail themselves of every opportunity for enrichment, or when they might be struggling with a concept and need some additional support.
"I think that's a message that continuing-generation students have gotten before," she said. "So in many instances, we need to make sure that first-generation students are aware that a broad array of individuals are taking full advantage of these resources, and they should too. That's not a differentiating factor—it's something they have earned the right to as they take their place here at Vanderbilt."
Family and travel
Thomas-Hunt's eyes brighten when asked about her family. She and her husband, Brian Hunt, an entrepreneur and former finance professional, are approaching their 23rd wedding anniversary. The couple has three children: Sophia, a junior at Harvard University; Thaddeus, a high school junior at Phillips Academy in Andover, Massachusetts; and Phineas, who is completing his eighth-grade year at St. Anne's-Belfield School in Charlottesville, Virginia.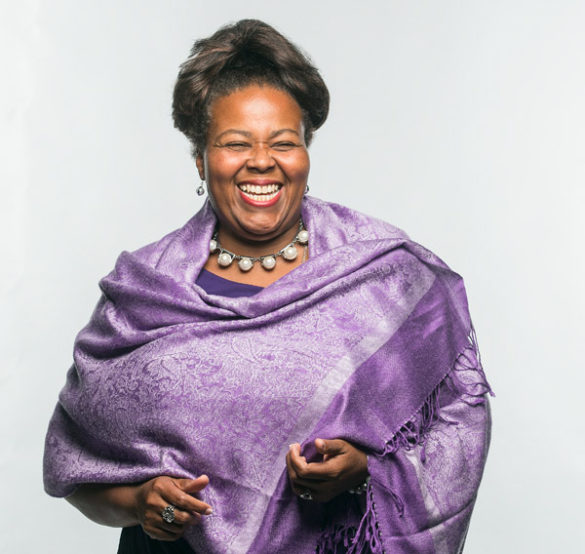 "We enjoy each other a great deal. We joke a lot. And I'm incredibly proud of them," Thomas-Hunt said. "I tell them I'm proud of them because of the individuals they are—more because of their hearts and the effort they put forth than anything else, and their kindness. They are not in Nashville with me at this point, but I look forward to them joining me here."
Another of Thomas-Hunt's great loves is travel. "I love learning about people and people watching. I love hearing their stories. And I like pushing myself to be in environments that I've not been in before," she said.
Four years ago, she had the opportunity to teach for a semester at sea, and the entire family joined her on a 10-week adventure that started in Southampton, England, and took them to various ports throughout the Mediterranean. "I was teaching on the waves—a new challenge! But that was wonderful," she said.
Building community
Thomas-Hunt's and her husband's careers have taken their family to many parts of the country, and they've often made their home in university residential communities. She served as the principal—equivalent to Vanderbilt's faculty head of house—for five years at UVA's Brown College at Monroe Hill, where her residence was the former plantation home of James Monroe, the fifth president of the United States.
"As a business school faculty member, I didn't have that much interaction with undergraduates, so being principal of the residential college allowed me to live with, engage with and share meals with undergrads and to help nurture their leadership," she said. "But my love for residential colleges was born as an undergraduate at Princeton. I was in Wilson College at Princeton, where freshmen and sophomores lived together, which built really nice cross-year relationships.
"Particularly when we talk about issues of equity, diversity and inclusion, I'm very big on strongly stating a community's values, including that we value having discourse around and acceptance of different perspectives," she said. "I think The Martha Rivers Ingram Commons is a fantastic way to bring freshmen into the Vanderbilt community and to lay the groundwork for our shared values. I am delighted that there are more residential communities coming online, because I think they become another way of knitting the fabric together and making the university a stronger community."
Thomas-Hunt said she hopes to be a very visible and accessible resource as Vanderbilt pursues greater equity, diversity and inclusion on campus.
"Inclusive excellence is about making sure that every person at Vanderbilt understands that what I do is about them," she said. "It's vitally important as we move forward to find these points of connection broadly across our community."
View the complete list of new Vanderbilt University faculty for 2017-18.