Media Inquiries
Latest Stories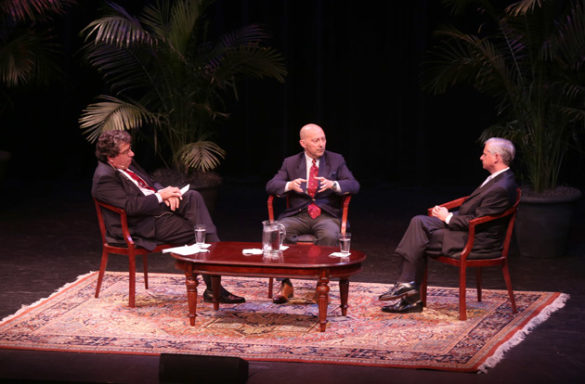 The United States of 100 years ago is a good era to review as America sorts out how to proceed in today's perilous times, a former admiral said during a frank discussion of world politics with Chancellor Nicholas S. Zeppos and Vanderbilt Distinguished Visiting Professor and Pulitzer Prize-winning author Jon Meacham.
"The international world today feels pretty roiled," said retired U.S. Navy Adm. James Stavridis, dean of the Fletcher School of Law and Diplomacy and holder of the Charles Francis Adams-Raytheon Dean's Chair at Tufts University. "Now, more than ever, we need institutions like Fletcher to help us build bridges, not walls."
Many in America supported the United States' position of isolationism in the years running up to World War I, Stavridis said.
"We ended up in a Depression, which contributes to the rise of fascism, and we ended up in the Second World War. As I look back at that 100-years-ago period, I think we can do better than that," Stavridis said.
"What we need is law and diplomacy modulated with security in a way to create bridges and form alliances and partnerships. At the end of the day, we are our values," he said.
Stavridis appeared Oct. 3 in Ingram Hall at Vanderbilt's Blair School of Music. The event was part of the Vanderbilt Chancellor's Lecture Series, which strives to connect the university and the Nashville community with intellectuals who are shaping our world.
Service to country
Stavridis said his 37 years in the U.S. Navy resulted in many people thanking him for his service to his country.
"I appreciate that a great deal," he said. "But there are a lot of ways to serve this country. Police officers, firemen, first responders, Teach for America, the Peace Corps, AmeriCorps, Volunteers of America, small-town politician.
"The way that grows on me is education," he said. "Those of you who are educators in any sense—professors and chancellors—are serving your country. … We are who we educate," he said.
"So for all you educators here on this beautiful campus of this extraordinary university, thank you for your service."