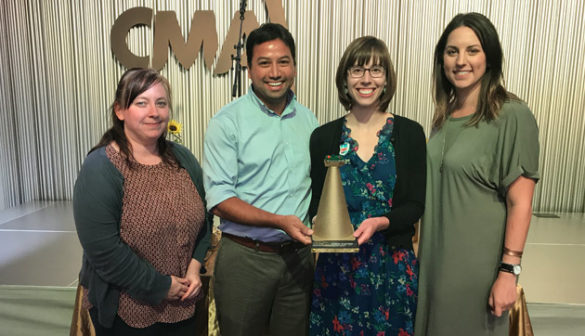 Vanderbilt University has received a Golden Cone Award from the Nashville Civic Design Center.
Vanderbilt took home top honors in the "Wow Factor" category at the Sept. 27 awards, which celebrated the best community "parklets" from Nashville's 2017 PARK(ing) Day celebration. In addition, Vanderbilt came in second in the "People's Choice" category and third in the "Text to Vote" category.
Vanderbilt's parklet, created for PARK(ing) Day on Sept. 15, spanned 17 spaces of parking lot 5A near the Baker Building. The transformed space featured games and activities throughout the day in a relaxing environment that included landscaping, hammocks and a water feature. Free coffee and ice cream were served to park visitors.
FutureVU, the university's campus land-use planning initiative led by the Division of Administration, sponsored Vanderbilt's PARK(ing) Day entry.
"I am extremely proud of our team of staff and students who came together to create the pop-up park," Vice Chancellor for Administration Eric Kopstain said. "Their creation embodied the FutureVU principles and values, and their work demonstrated the height of what's possible when we seek to beautify our campus in a fun, community-driven way."
Plans are in the works for other pop-up spaces to be created on campus later this semester. Leaders of FutureVU plan to release a report this fall that lays out the 20-to-30-year vision for Vanderbilt's 330-acre campus.