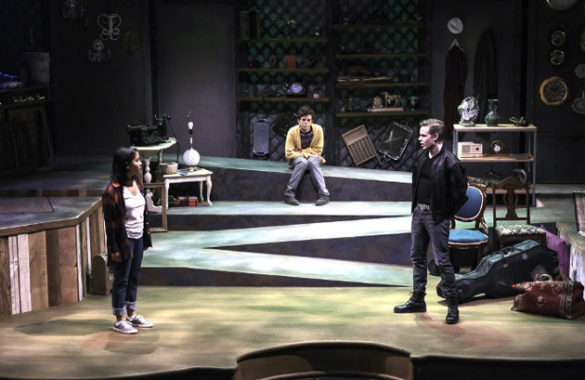 Vanderbilt University Theatre will perform Kid Simple: A Radio Drama in the Flesh, a highly imaginative play that features sound effects in the storytelling, starting Sept. 29.
The production, directed by Leah Lowe, associate professor of theatre and department chair, will be in Neely Auditorium Sept. 29, 30 and Oct. 7 at 8 p.m. Performances are also scheduled Oct. 1 and 5 at 7 p.m. and Oct. 8 at 2 p.m.
Kid Simple, by playwright Jordan Harrison, revolves around the adventures of a young inventor by the name of Moll. She creates a machine for hearing sounds that cannot be heard by the human ear. Then an evil villain steals the machine, along with Moll's heart, and she goes on a quest to find the machine and preserve the everyday noises of our lives.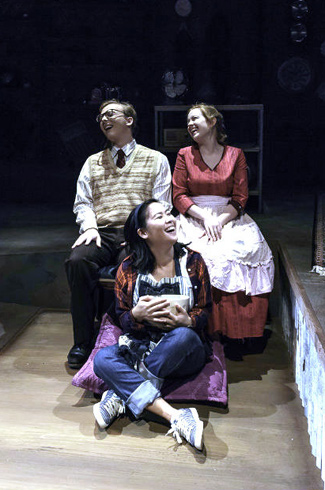 "This lively and energetic production has so many sound effects—both recorded and performed live" said Lowe, who has a keen interest in using sound as a storytelling component. Among the Vanderbilt production's collaborators is Paul Carroll Binkley, a Nashville musician who led the sound effects design effort and found a variety of sound-making devices to tell the story.
In addition, Matthew Stratton, senior lecturer in theatre, designed the set. One of the most important pieces is a Foley table—what a sound effects table in a radio drama is called—with two students cast as Foley artists.
"Matt has built a table with shelves, buttons and whirligigs," Lowe said. "We have balloons that pop, an air compressor tube that swishes, and an old-fashioned cash register that ka-chings."
Other examples include a water spider tiptoeing across a pond and shipwrecks happening thousands of miles away. The audience also can hear sounds that have adhered to objects. "For example, when a stethoscope is put next to a chalkboard, you hear the voices of teachers over the years who have used the chalkboard," Lowe said.
Alexandra Sargent-Capps, senior lecturer in theatre, is the costume designer, and Phillip Franck, associate professor of theatre, is in charge of lights and projections.
"I love the range of students who participate in our plays," Lowe said. "It's a cast of eight students, most of them playing multiple roles, including seniors as well as first-year students."
The cast members are Kat Ko, in the role of Moll; Anna Meehan as the Narrator; Michael Maerlender, as the Mercenary and others; Annie Bradford, as the Mother and others; William Cummings, as the Father and others; Josh van der Eerden, in the role of Oliver; and Mar Battistella and Kevin Xiang as the Foley artists.
Kid Simple premiered in 2004 at the Humana Festival of New American Plays in Louisville, Kentucky.
General admission for Kid Simple is $10 with reduced prices for students. Reserve tickets here, or pick them up at the Sarratt Box Office.