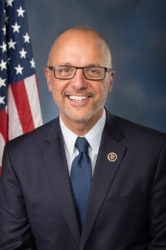 U.S. Rep. Ted Deutch of Florida will participate in a public dialogue with a Vanderbilt Law School professor during a visit on Friday, Oct. 6.
Deutch, who represents the 22nd Congressional District, will begin his hourlong visit at 2:30 p.m. in the Bennett Miller Room at the law school, located at 131 21st Ave. S. He'll be joined by Brian Fitzpatrick, professor of law at Vanderbilt.
The Vanderbilt community is invited. There is no charge.
Now serving his fifth term in Congress, Deutch is the ranking Democrat of the House Ethics Committee and a senior member of the House Judiciary Committee and the House Foreign Affairs Committee. Before entering politics, he was a commercial real estate attorney.
Deutch is a graduate of the University of Michigan and the University of Michigan Law School.