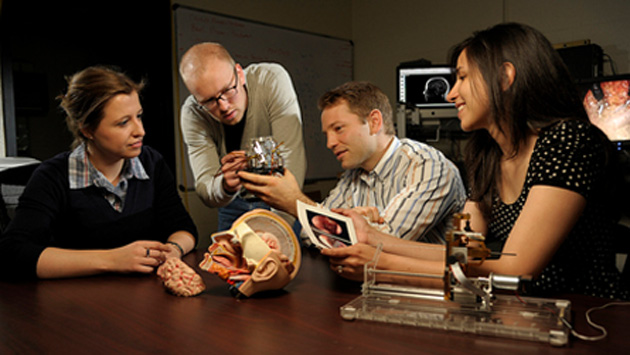 The Office of the Provost is issuing a call for proposals for two internal faculty funding programs, Trans-Institutional Programs and University Courses, key initiatives of the Academic Strategic Plan.
TIPs, a $50 million strategic investment in interdisciplinary research, awards funding for projects that aim to answer some of society's grandest challenges. University Courses, meanwhile, allow for faculty from one or more schools to introduce and teach innovative courses to students from across each of Vanderbilt's schools and colleges.
InfoReady Review, the online application portal, will open Oct. 2 for TIPs pre-proposals and for University Courses proposals. TIPs pre-proposals are due Oct. 31, and University Courses proposals are due Nov. 13.
The TIPs program is open to all full-time faculty, while the University Courses initiative is open to all full-time VU- and VUMC-employed faculty for courses teaching students in schools and colleges reporting to the provost. See websites for full eligibility guidelines.
Access the InfoReady application. >>
TIPs funding program
The TIPs funding program serves as a catalyst to support new ideas, cutting-edge research and the development of infrastructure by providing funds for emerging and existing trans-institutional centers and institutes. The awards, many of which address topics of critical academic and societal interest and advance Vanderbilt's commitment to inclusive excellence, are meant to support organizations that facilitate research and teaching collaborations across disciplines, aim to address topics of critical academic and societal interest, embrace discovery and spark learning to position Vanderbilt as a world leader in a given area.
[rquote]Since the TIPs initiative began in 2015, more than 40 projects have received funding.[/rquote] The 2017 cohort includes projects ranging from identifying best practices in public policy for the LGBT community to understanding life at the single-cell level.
There are two types of TIPs awards. Vanderbilt Initiative Awards provide pilot funding for efforts that are, or may lead to, new programs, centers and institutes. Vanderbilt Reinvestment Awards reinvest in existing trans-institutional centers and institutes.
The TIPs Council and review panels evaluate proposals and make funding recommendations. The TIPs Council is co-chaired by Vice Provost for Academic and Strategic Affairs John Geer, Vice Provost for Research Padma Raghavan, and Vanderbilt University Medical Center Executive Vice President for Research Jennifer Pietenpol.
Key TIPs dates
Oct. 2: Application portal opens
Oct. 30: Pre-proposals due
Jan. 22, 2018: Full proposals due
May 2018: Awards announced
Funds available: July 1, 2018
University Courses
The University Courses program promotes new and creative interdisciplinary teaching and learning. University Courses leverage the natural synergies across Vanderbilt's schools and colleges, affording faculty the opportunity to teach a new or significantly redesigned course from diverse and innovative points of view.
A special call is made for multicultural university courses that meet the University Courses criteria and specifically address multiculturalism, racial/ethnic issues, identity literacy and/or cultural competency within an interdisciplinary setting.
Four university courses were launched during the 2016–17 academic year. Six more courses, ranging from African music and politics to the history and science of brewing, were approved during the 2017 cycle and will be introduced to students during the 2017–18 academic year.
The University Courses Committee, chaired by Geer, and the Multicultural University Courses Committee, chaired by Ifeoma Nwankwo, associate provost for strategic initiatives and partnerships, review and make recommendations on proposals.
Key University Courses dates
Oct. 2: Application portal opens
Nov. 13: Proposals due
February 2018: Awards announced
For more information about eligibility, proposal requirements, and guidelines on the use of funds, visit the Internal Funding Programs section of the Office of the Provost's website. Questions about the application process for TIPs or University Courses may be directed to Schyler Turrin at (615) 875-1027 or occi@vanderbilt.edu.