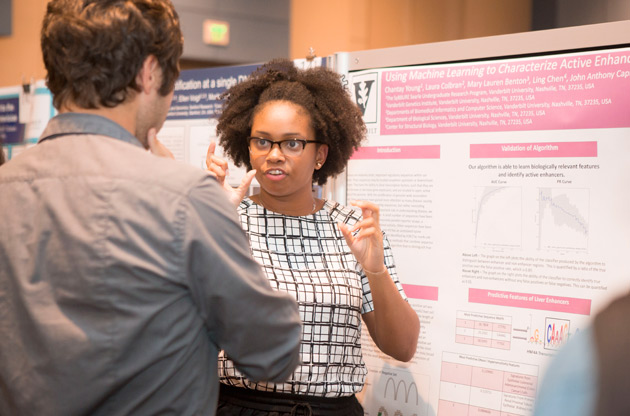 The fourth annual Vanderbilt Undergraduate Research Fair, held Sept. 14 at the Student Life Center, was a successful showcase of 147 student poster presentations, with more than 300 faculty, students, staff and community members in attendance.
The annual event provides students with a forum to present both curricular and co-curricular research conducted alongside a faculty mentor, including for-credit projects such as honors thesis research as well as not-for-credit projects. This year's fair highlighted a diverse array of student research endeavors, with participation from all four undergraduate colleges, and faculty mentors representing 49 departments across Vanderbilt's campus and several other institutions. Twenty students were recognized with awards for exceptional posters and presentations.
A series of panel discussions led by faculty and students highlighted how undergraduates can become more involved in research during their Vanderbilt career and beyond.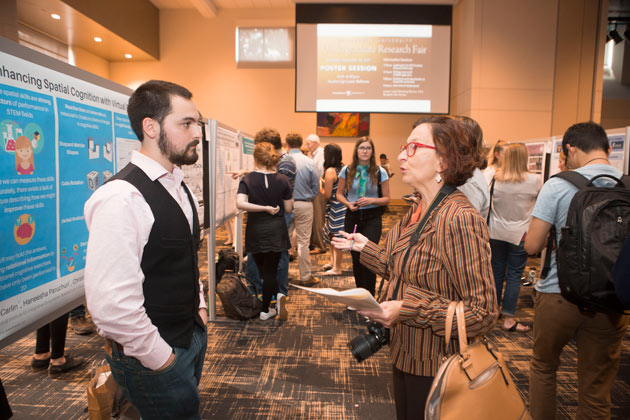 "We were thrilled to witness such a high level of student engagement and achievement at this year's research fair," said Clare McCabe, Cornelius Vanderbilt Professor of Chemical and Biomolecular Engineering and outgoing director of the Vanderbilt Undergraduate Student Research Program (VUSRP). "The event represents a celebration of the participants' immersive experiences, which teach them the skills to become agents of change in our broader society."
The fair was sponsored by the Vanderbilt University Summer Research Program and the Littlejohn Family, the Office of the Provost, and the School of Engineering.
"The success of this year's research fair is a testament to the stellar leadership Clare has provided to the VUSRP program and undergraduate research at Vanderbilt," Vice Provost for Learning and Residential Affairs Cynthia Cyrus said. "I am deeply appreciative of her guidance and support of our undergraduate students who have decided to pursue research opportunities, both on campus and beyond."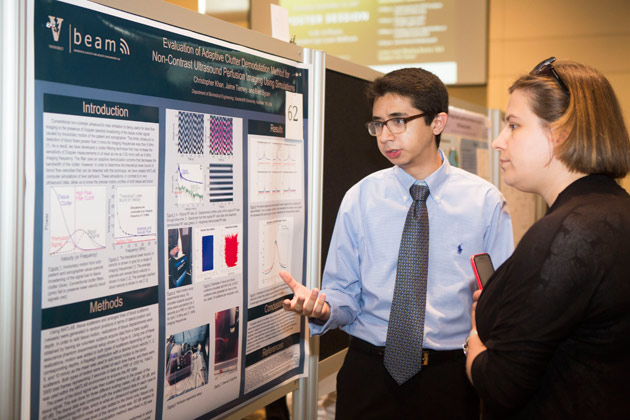 With the recent establishment of the Office of Immersion Resources, the research fair and other initiatives affiliated with undergraduate research, including VUSRP, will now fall under the Immersion office. As one of the four Immersion Vanderbilt pathways, undergraduate research continues to represent an integral educational opportunity that undergraduates can pursue as the university expands its commitment to these types of impactful learning experiences.