Media Inquiries
Latest Stories
Vanderbilt Divinity School's Relevant Religion series will focus on the Holocaust—including the significance of names, dates and numbers associated with the genocide—when the community talks rotate among three West End congregations this fall.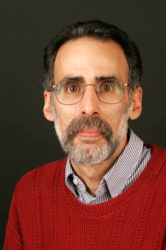 "Meanings and Implications of the Holocaust: Names/Dates/Numbers" will begin Oct. 18 at Sherith Israel. The fall series will be led by Jay Geller, an associate professor of modern Jewish culture at the Divinity School.
Geller offers examples of questions to be considered. "What are the meanings and implications of the following: When someone speaks of the Holocaust, another of the Shoah, and a third of the Final Solution? When someone traces the attempted destruction of European Jewry back to the first-century rise of Christianity; another to the April 20, 1889, birth of Hitler; and a third to the June 1941 German invasion of the Soviet Union? When someone refers to The Six Million, another to an estimated 5,693,851, a third to around 11 million, and a fourth to maybe 250,000?"
Geller's books include The Other Jewish Question: Identifying the Jew and Making Sense of Modernity. He has taught courses on the Holocaust (historiography, film, literature, memoir, other genocides), 19th- and 20th-century European Jewish culture, and religious autobiography.
Dates and locations for the lecture series are:
All sessions begin with dinner at 5:30 p.m., and the cost for the entire series (including meals) is $10. The registration fee—cash or check only—will be collected on site the evening of the lecture. For more information, email Sha'Tika Brown or call 615-936-8453.