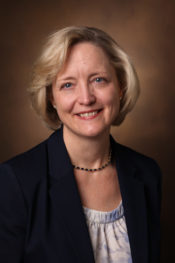 Provost and Vice Chancellor for Academic Affairs Susan R. Wente has announced that nominations are now being accepted for the 2018 cohort of Chancellor Faculty Fellows.
The program reinvests in newly tenured faculty at a critical time in their careers to support research, scholarship and creative expression and is a critical part of the Academic Strategic Plan's Trans-Institutional Programs initiative. Nominations are due Oct. 31.
"[rquote]We are committed to investing in our faculty, and these outstanding educators and researchers are the future of Vanderbilt[/rquote]," Wente said. "Their excitement for discovery energizes both students and their faculty colleagues. In addition, the Chancellor Faculty Fellows program provides a forum for these scholars to share and innovate across disciplines."
Chancellor Faculty Fellows meet regularly to exchange ideas, consider career and leadership development strategies, and foster trans-institutional collaboration. The program is entering its fourth year, and to date, 39 faculty members from a broad cross-section of disciplines have been named fellows.
Fellows hold the title for two years and receive $40,000 each year to support discovery and learning activities. Managing the program is the TIPs Council, which is co-chaired by John Geer, vice provost for academic and strategic affairs; Padma Raghavan, vice provost for research; and Jennifer Pietenpol, executive vice president for research for Vanderbilt University Medical Center.
To be eligible for nomination, faculty members must have been promoted to associate professor (tenured or tenure-track) within the past five years (or the equivalent rank at Blair and the law school). The deans of Vanderbilt's 10 colleges and schools will work with their respective department chairs and faculty to conduct the nomination process.
The new cohort will be announced early in 2018, and funding will begin July 1, 2018. Detailed information is available on the provost's website.