Media Inquiries
Latest Stories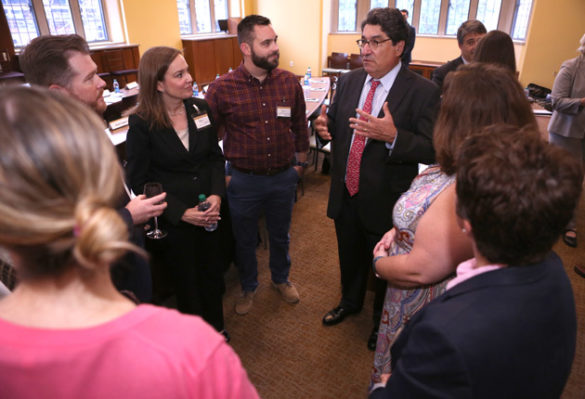 The seventh cohort of the Vanderbilt Leadership Academy commenced Sept. 11.
Established by Chancellor Nicholas S. Zeppos in 2011, VLA is a nine-month learning journey for high-performing leaders from academic and administrative areas at both Vanderbilt University and Vanderbilt University Medical Center. The experience is designed to build participants' knowledge, capability and passion for leading their respective institutions.
"Amid the complexities of today's world, global institutions like Vanderbilt need models of effective and imaginative leadership," Zeppos said. "Vanderbilt University and Vanderbilt University Medical Center are fueled by the unique investments of cultural and human capital of our students, faculty and staff.
"The participants selected for the seventh cohort of VLA have demonstrated the creativity, talent and commitment essential to charting the success of our institutions," he said. "We are committed to providing leaders like them with opportunities to gain a deeper understanding of the qualities of effective leadership and to hone their personal leadership strengths."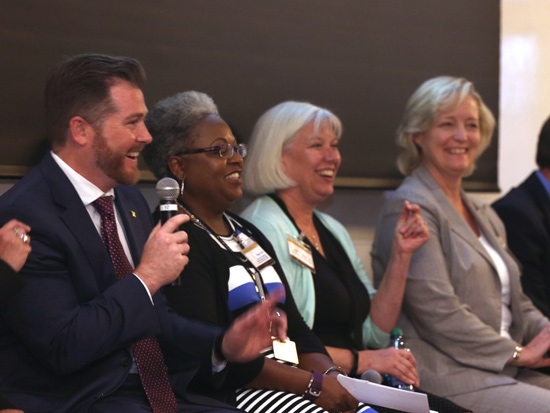 Each year, approximately 25 participants are nominated by the chancellor, vice chancellors and executive leaders. Some 150 leaders have completed the program since its inception.
VLA sessions feature speakers both internal and external to Vanderbilt, roundtable lunches with senior leaders, and case studies. The program is designed to sharpen awareness of personal performance as a leader by demonstrating the ability to receive feedback and self-adjust; promote behaviors that reflect learning and leading agility; demonstrate composure and presence both internally and externally; and consider stakeholders' interests, core values and data in decision-making.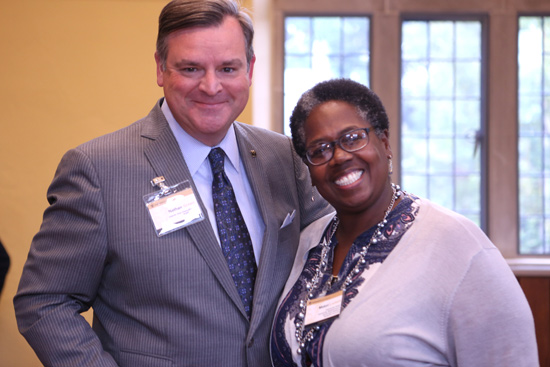 The Vanderbilt Leadership Academy is administered by University Human Resources in the Division of Administration.
"We are delighted to convene the seventh cohort of the Vanderbilt Leadership Academy and provide these university and Medical Center leaders with the valuable opportunity to explore who they are as leaders, how they can more effectively interact with others, and how they can prepare to lead their organizations into the future," Eric Kopstain, vice chancellor for administration, said.
---
The VLA cohort for 2017-18 is as follows:
Ronnie Alvarez, VUMC, Betty and Lonnie S. Burnett Chair in Obstetrics and Gynecology
Vanessa Beasley, VU, dean of The Martha Rivers Ingram Commons and associate professor of communication studies
Eric Bymaster, VU, associate vice chancellor for finance
Wally Clair, VUMC, executive medical director and chief medical officer of the Vanderbilt Heart and Vascular Institute and associate professor of medicine
Donna DePasquale, VUMC, director of the Office of the Chief Operating Officer
Megan Groover, VUMC, director of talent operations, Human Resources
Valerie Hotchkiss, VU, university librarian
Shubhada Jagasia, VUMC, vice chair for clinical affairs and professor of medicine
Wayne Jenkins, VUMC, chief clinical care officer, Office of Population Health
Jeff Johns, VUMC, interim chair of the Department of Physical Medicine and Rehabilitation, medical director of Vanderbilt Stallworth Rehabilitation Hospital and associate professor of physical medicine and rehabilitation
Kathie Krause, VUMC, associate hospital director and chief nursing officer, Monroe Carell Jr. Children's Hospital at Vanderbilt
Midori Lockett, VU, community liaison, Community, Neighborhood and Government Relations
Scott McCarver, VUMC, chief operating officer, Vanderbilt University Hospital
Doug Mefford, VUMC, managing counsel, Office of Legal Affairs
Thom Mudrick, VU, claims manager, Office of Risk and Insurance Management
Ifeoma Nwankwo, VU, associate provost for strategic initiatives and partnerships, associate professor of English and Chancellor's Higher Education Fellow
Lauren Obersteadt, VU, executive director, Alumni and Student Engagement
Lacy Paschal, VU, director of Web Communications, Division of Communications
Mike Perez, VU, associate vice chancellor and chief facilities officer, University Services Executive Administration
William H. Robinson, VU, associate dean of the School of Engineering and associate professor of electrical engineering and computer engineering
Lori Rolando, VUMC, medical director, Occupational Health
Libby Salberg, VUMC, director, Office of Contracts Management
Fran Spurrier, VU, director of the Transition Management Office, VUIT
David Sweatt, VU, Allan D. Bass Professor of Pharmacology and chair of the department
Cara Tuttle Bell, VU, director, Project Safe Center for Sexual Misconduct Prevention and Response
Jeremy Wilson, VU, associate professor of trombone and Faculty Senate vice chair-elect
For more information, contact leadershipacademy@vanderbilt.edu.