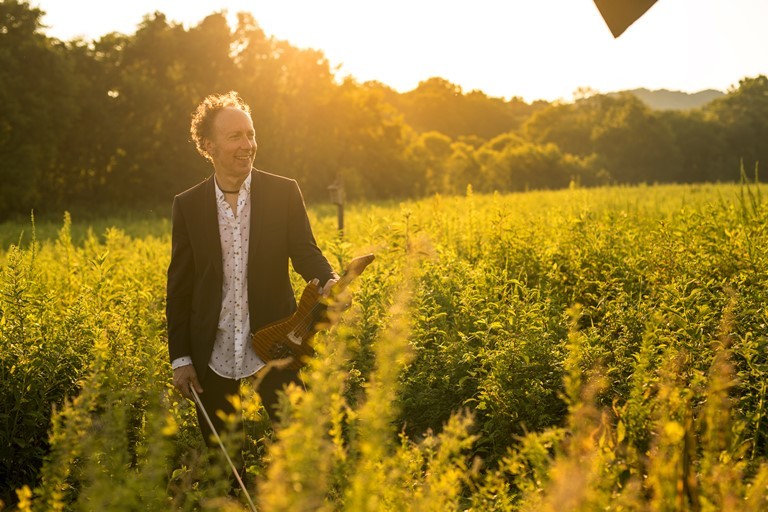 Tracy Silverman, called "the greatest living exponent of the electric violin" by BBC Radio, will perform his concerto Love Song to the Sun accompanied by the Vanderbilt Orchestra as part of OZ Arts' popular TNT Local Spotlight Series.
Silverman, who plays a six-string electric violin, will perform at 7:30 p.m. Thursday, Oct. 5, at OZ Arts Nashville at 6172 Cockrill Bend Circle in Nashville. The cost is $20 and tickets are available at ozartsnashville.org.
Love Song to the Sun is a six-part musical score that tells the dramatic one-day story of an insect through music and constructed media design by Todd Winkler. The performance utilizes interactive projections to tell a dramatic story of survival and surrender. Robin Fountain, professor of conducting at Blair School of Music at Vanderbilt University, will conduct the orchestra. The concerto was commissioned by Blair, the Anchorage Symphony Orchestra, the Rogue Valley Symphony and the Brown University Orchestra.
"I'm so thrilled to be working with the innovative conductor Robin Fountain and the very creative people at OZ to reinvent the traditional violin concerto in an exciting and meaningful way that reflects the richness of our contemporary American musical culture, working outside the classical box to create a vibrant orchestral experience," Silverman said.
Winkler is a composer and multimedia artist on the faculty at Brown University, where he is co-director of MEME (Multimedia and Electronic Music Experiments). His work explores ways in which human actions can affect sound and images produced by computers in multimedia dance/theatre productions, interactive video installations, and concert pieces for computers and instruments. He is the author of Composing Interactive Music (MIT Press, 1998), as well as papers that bridge the fields of music, video art, cognitive science and dance/theatre.
A graduate of the Juilliard School of Music, Silverman is a former member of the acclaimed Turtle Island String Quartet. He brands his nonclassical stylistic approach as "21st-century violin playing."
This program is supported in part by The Tennessee Arts Commission and The Danner Foundation.