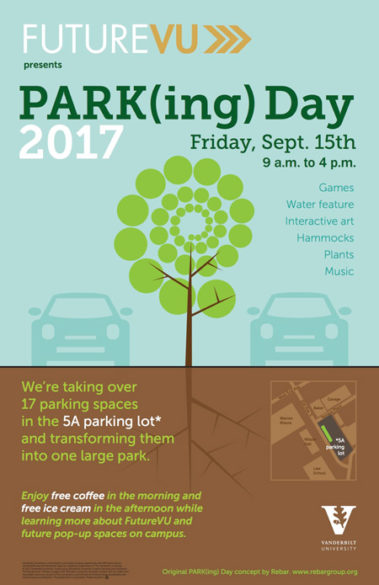 Vanderbilt's FutureVU team, led by the Division of Administration, is gearing up for PARK(ing) Day, an internationally recognized event that features parking spaces transformed into pocket parks. Seventeen spaces in parking lot 5A, adjacent to the Baker Building, will become temporary green space on Sept. 15 from 9 a.m. to 4 p.m.
The campus community is invited to stop by and enjoy this event, which will feature various games and activities throughout the day in a relaxing environment containing hammocks and a water feature. Coffee will be available in the morning and free ice cream is scheduled to be provided in the afternoon.
The event, a part of citywide efforts supported by the Nashville Civic Design Center, provides an opportunity for students, faculty and staff to interact with underutilized outdoor space in a functional way where they can enjoy a snack, study together or take a moment to relax. PARK(ing) Day also will inform attendees about the vision for this area of campus and the plans for other pop-up spaces to be created later this fall.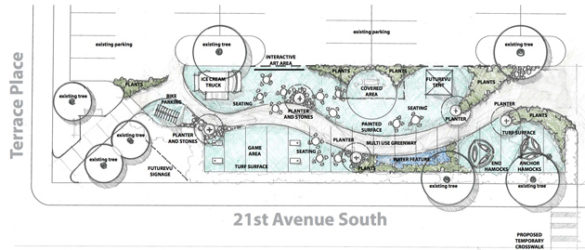 Leaders of FutureVU, the campus land-use planning initiative, plan to release a report later this fall that lays out the 20-to-30-year vision for Vanderbilt's 330-acre campus. Approximately one-fourth of campus is currently occupied by parking facilities. The team, led by Vice Chancellor for Administration Eric Kopstain, has sought constant engagement from the campus community in efforts to produce innovative ideas for repurposing this aspect of the campus environment. PARK(ing) Day aligns with FutureVU as it seeks to generate discussion and ideas about how urban space, like that used for parking, is allocated.