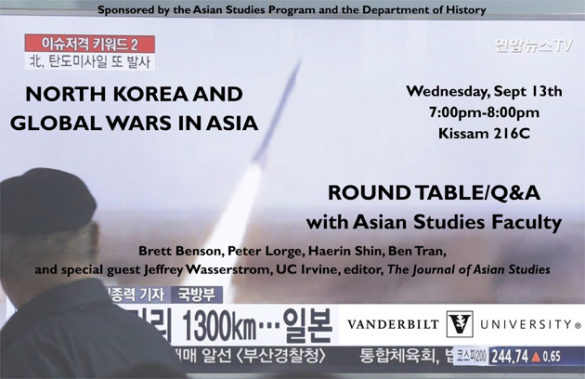 A roundtable discussion and Q&A on "North Korea and Global Wars in Asia" is scheduled from 7 to 8 p.m. Wednesday, Sept. 13, in the Kissam Center, Room 216C.
Vanderbilt's Asian Studies faculty will put the current crisis with North Korea into global perspective. The American media primarily focuses on the issue as a bilateral conflict between North Korea and the United States. Vanderbilt's experts in East Asian politics, history and culture will put the crisis in broader context, including views from China, Taiwan, South Korea, Japan and Vietnam.
Panelists will include Vanderbilt's Brett Benson, Peter Lorge, Haerin Shin and Ben Tran, with special guest Jeffrey Wasserstrom, Chancellor's Professor of History at the University of California at Irvine, who has participated in congressional briefings about North Korea and China. He is also the editor of The Journal of Asian Studies.
The Asian Studies Program and the Department of History are co-sponsors of the event.