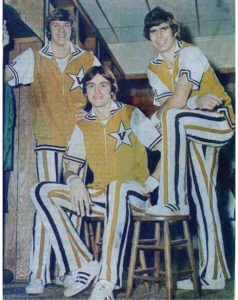 Former Vanderbilt basketball star Joe Thomas Ford of Paducah, Kentucky, died June 20 from injuries sustained in an automobile accident. He was 64.
Ford was a member of the famed F-Troop, which also included standouts Butch Feher and Jeff Fosnes and was the driving force of the Commodore basketball team from 1972 to 1976. In 1973 the F-Troop led the team to the SEC championship and NCAA tournament. During the four seasons in which the F-Troop played, Vanderbilt posted a record of 74–33.
Ford scored 1,193 points in his career and was the team captain during his junior and senior seasons. A four-year starter, he cracked the starting lineup in 1972–73, the first year the NCAA allowed freshmen to play.
Born in Mayfield, Kentucky, Ford graduated from Mayfield High School, where he was a four-year starter in basketball, baseball and football, earning 12 letters. He was the all-time leading scorer in MHS basketball history, and his No. 10 jersey was retired in 1972. Setting another school record, he was selected for the all-state football and basketball teams the same year. The Dallas Cowboys asked him to try out, and he played in district, regional and state baseball tournaments.
After graduating from Vanderbilt, Ford worked for Brandeis Machinery from 1973 to 1990, and was then an agent for Northwestern Mutual Insurance and Financial Planning for 27 years. In the early 1990s he implemented Great Expectations, an ecumenical campaign to provide Christmas food and gifts for Paducah's needy families. His greatest passion was coaching, mentoring and inspiring youth, both in Paducah and Mayfield.
Ford is survived by his wife of 35 years, Kim Owen Ford; two sons; his mother; a sister; and a niece and nephew.
—STAFF REPORTS
---