Media Inquiries
Latest Stories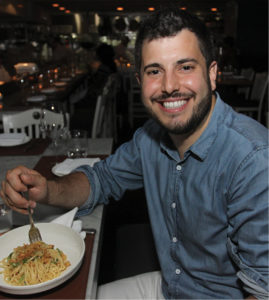 The Freshman 15 has been the bane of countless generations of college students. George Embiricos knows well the perils of eating away from home for the first time.
"I put on 35 pounds my freshman year," says the New York City native. "I was eating Lunchables at 2 a.m., like any other college student. Before you knew it, I went from the skinniest kid in my high school graduating class to a well-sized fraternity student."
By his sophomore year, better habits prevailed. But Nashville's burgeoning food scene beckoned. Combining his love for eating—especially "hot chicken," Nashville's spicy contribution to comfort fare—with a passion for writing, Embiricos, then a child studies major, hatched a new plan: He'd become a food journalist.
Today he's associate editor at Food Republic, a New York City-based online magazine that "explores the culture of food through stories, interviews, global conversations and experiences." The website logs 1 million unique visitors every month.
Embiricos' writings include chef profiles and restaurant reviews. Among his articles is "30 Places to Eat in Nashville," which he bills as "the ultimate guide." But his musings also veer to food psychology, such as why men think overeating impresses women.
A Greek American, Embiricos' palate developed at a young age, when he indulged in his mom's cooking. His favorite dish was pastichio, a kind of Greek lasagna ("I loved scooping off the top layer of béchamel sauce behind her back, sending her into a fit before she served it"), and he got his first taste of sushi at age 6, when it was just coming on the scene in New York.
Beyond the writing, Embiricos is enrolled at the Institute of Culinary Education in Tribeca. But despite his love for gastronomy, readers might be surprised that he's not there to perfect his cooking skills. "While about half of Food Republic is recipes for the home cook, I—almost humorously—do not cook myself," Embiricos says.
Instead, he's going to culinary school in the hopes of learning how to open and manage his own hot chicken restaurant in the Big Apple.
"My death-row meal would be Nashville hot chicken," he says. "I can eat a crazy amount of hot chicken and think I'm absolutely full, and then I want more 20 minutes later. It's my favorite dish in the world."
Crediting Vanderbilt and Nashville with helping him hone his love for food, Embiricos gives back as a member of Commodore Recruitment Programs (CoRPs), for which he interviews potential Vanderbilt students. He also served as 2016 class agent for G.O.L.D. (Graduates of the Last Decade).
—ANDREW FAUGHT
---