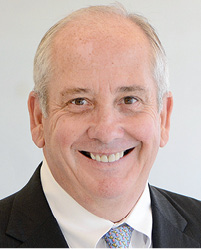 For graduating seniors, no Vanderbilt education is complete without at least a few practical tips for navigating the wider world. That was the idea behind the original Life after Vanderbilt guide, a compendium of helpful advice from one group of young alumni to the next on everything from career networking to managing finances.
Ten years later the concept has grown into a series of workshops sponsored by the Vanderbilt University Alumni Association. One of the most popular features is a senior etiquette dinner. This year's event, held at Ruth's Chris Steak House across from campus, was led by Alumni Association President Perry Brandt, BA'74, JD'77, a managing partner at global law firm Bryan Cave.
"I attend hundreds of business lunches and dinners every year, and greatly appreciate the importance of proper etiquette," says Brandt, who lives in Kansas City, Missouri, but frequently lectures on this and other topics at Vanderbilt Law School. Here are some highlights from his April dinner.
---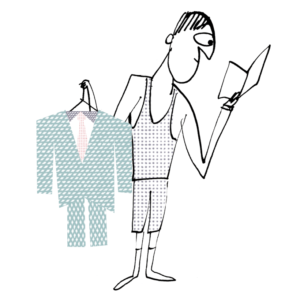 1. DRESS THE PART.
First impressions are critical. Find out in advance what the dress code will be, and make sure to meet or exceed it. Business attire is always appropriate: a suit and tasteful tie for men (with matching belt and shoes), and a stylish two-piece suit for women. Even if the event is business casual, that does not mean it's a license to wear blue jeans, tank tops or flip flops. In my view, you can never be overdressed.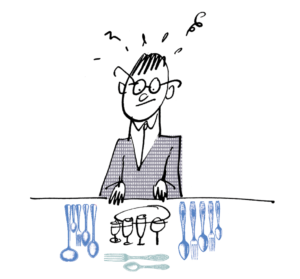 2. KNOW YOUR TABLE SETTINGS.
Depending on how formal the meal is, you could be faced with more than a dozen pieces of tableware. For your silverware, simply work from the outside with each course served. Meanwhile, your bread plate will always be on the left, and your glassware will always be on the right. When you sit down, place your napkin in your lap, and leave it in your chair if you need to get up. When you finish your meal, rest your fork and knife across the top right of your plate so your server will know you are done.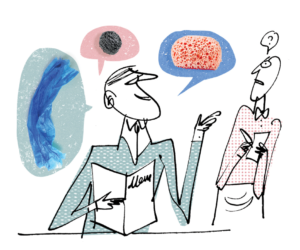 3. ORDER WISELY.
When it comes to ordering appetizers, salads, entrees and desserts, follow the lead of your host, especially if you're exploring more expensive items. Nowhere is this advice more critical than when ordering alcohol. Under all circumstances, limit yourself to one cocktail or glass of wine—even if the person you're with orders more. You don't want to become a cautionary tale. If you have dietary restrictions, let your host know in advance.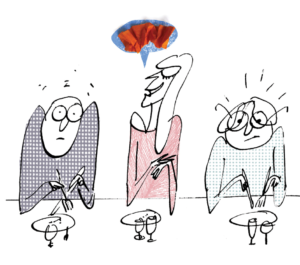 4. REMEMBER YOUR MANNERS.
Do not begin to eat until everyone is served. Hold your fork in the left hand and knife in the right. Make pleasant conversation, and ask questions of others—don't focus just on yourself. Try to include everyone within earshot in the discussion. Don't talk with your mouth full, and make eye contact. Whatever you do, avoid politics, religion, or any other controversial subjects.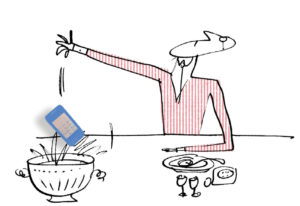 5. HIDE THE CELLPHONE.
One of my pet peeves is when someone places his or her phone on the table. Keep it hidden! It sends a rude signal to your dining companions that emails, texts, or phone calls from others may be more important than they. If, however, you do receive an urgent phone call—and only if it is urgent—you should excuse yourself to take the call and return as soon as possible.
---
ILLUSTRATIONS BY SERGE BLOCH
---