Robert Churchwell Sr. centennial celebration set for Sept. 9
Aug. 29, 2017, 5:22 PM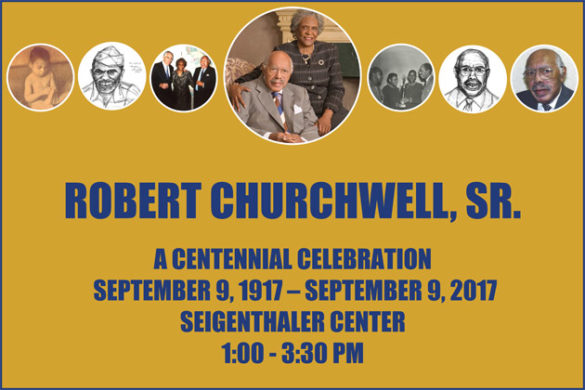 A celebration marking the 100th anniversary of the birth of Robert Churchwell Sr. is planned for Saturday, Sept. 9, at the John Seigenthaler Center. The event will be held from 1 to 3:30 p.m. All members of the Vanderbilt community are invited to attend.
Churchwell, who died in February 2009, was born in Clifton, Tennessee, on Sept. 9, 1917. A member of the "Greatest Generation," he served in the Army in both Europe and in the Pacific during World War II, rising to the rank of staff sergeant. Upon his return to Nashville following the war, Churchwell entered Fisk University.
Churchwell became the first African American to work on a Southern daily newspaper, the Nashville Banner, and was nicknamed the "Jackie Robinson of Southern Journalism." He went on to acclaim for his coverage of local and nationally relevant news. He was inducted into the Society for Professional Journalism and was posthumously awarded its Helen Thomas Lifetime Achievement Award in 2009.
Churchwell's son, André L. Churchwell, graduated from Vanderbilt University in 1975 with a bachelor's degree in biomedical engineering. He received the Walter R. Murray Jr. Distinguished Alumnus Award in 2005 from the Association of Vanderbilt Black Alumni and was named a Distinguished Alumnus in 2010 by the Vanderbilt School of Engineering. In addition, three of Robert Churchwell's sons have served as members of the Vanderbilt School of Medicine faculty in various roles.
Several of Churchwell's family members and other friends will make presentations at the Sept. 9 celebration.