Be advised: Between 11:58 a.m. and 2:54 p.m., Nashville will experience a solar eclipse. Don¹t take chances with your sight! DO NOT attempt to look directly at the sun during the partial eclipse phase without certified eclipse safety glasses–no matter how little sunlight there is. Doing so may cause permanent eye damage. The only time an eclipse may safely be viewed without eye protection is during the total eclipse phase, which will occur between 1:27 and 1:29 p.m. You must wait until the sun is completely obscured to take your glasses off and you must replace them the instant the sun reappears.
White Vanderbilt Health eclipse glasses recalled

Vanderbilt University Medical Center is recalling 8,000 pairs of eclipse viewing glasses distributed last weekend at the Williamson County Fair. The recalled glasses have solid white paper frames and include the Vanderbilt Health logo on both temples of the frames.
The recalled glasses were purchased through a third-party vendor and included documentation that they had been tested and met safe-viewing standards. However, the manufacturer of the glasses purchased by VUMC was unable to verify that it had produced the glasses. Consequently, VUMC chose to recall and replace the glasses.
Information about the recall and how to obtain replacement glasses is available here: www.vanderbilthealth.com/eclipseglasses
Multicolored Vanderbilt University, Dyer Observatory, HealthPlus and Vanderbilt Eye Institute glasses NOT recalled
Vanderbilt eclipse glasses with multi-colored frames—black arms with blue or orange accents, or black and gold—have not been recalled. They were obtained through a different vendor, Rainbow Symphony, which is approved by the American Astronomical Society and NASA as a vendor of reputable glasses. HealthPlus' eclipse viewing glasses were obtained through American Paper Optics, which is another NASA and AAS-approved vendor.
The glasses NOT included in the recall bear the following logos:
Vanderbilt University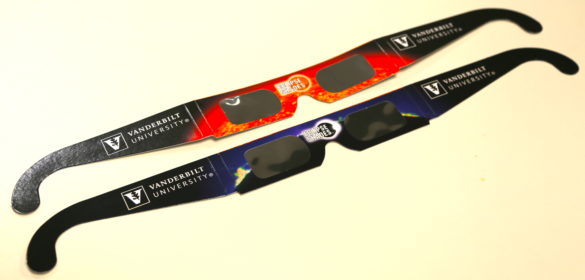 Dyer Observatory

HealthPlus

Vanderbilt Eye Institute

Non-recalled glasses will be distributed at 'Dores in the Dark
The multicolored glasses, which have not been recalled, will be distributed at the 'Dores in the Dark celebration for university students, faculty and staff on Alumni Lawn on Monday.