Check out these tips for an Earth-friendly Move-In experience
Aug. 11, 2017, 9:46 AM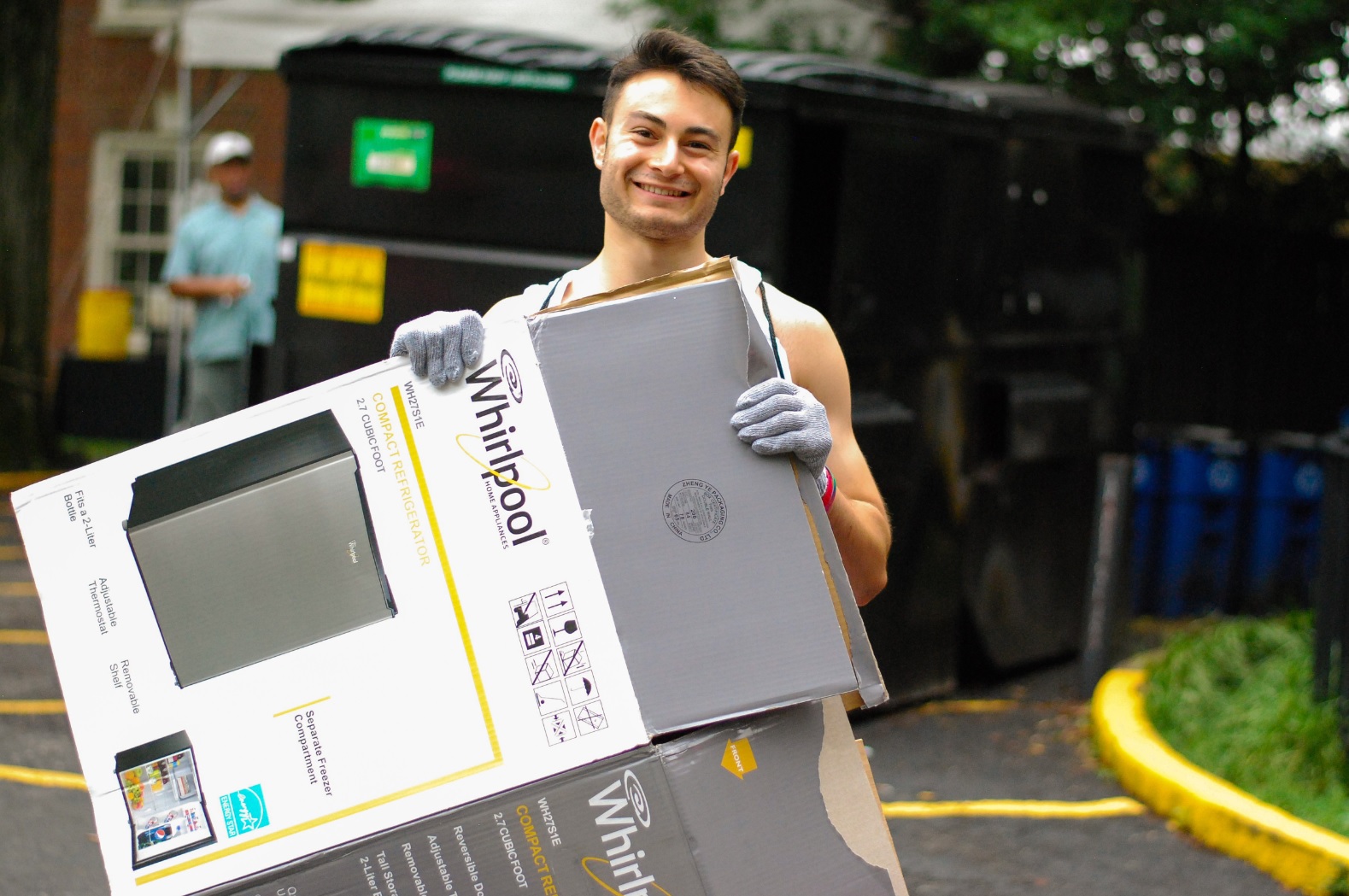 Whether you're a first-year or returning Commodore, we are excited to have you back on campus soon! While moving in to your room or your office, please try to minimize waste and recycle. Check out the tips below.
The VU Cardboard Crew will assist first-year students at The Commons with recycling their cardboard, Styrofoam and plastic film wrapping.
SustainVU also will host a booth at the University Resources & Service Fair in The Commons Center, as part of CommonsVU orientation, from 5:30 to 7:30 p.m. on Saturday, Aug. 19, so please come and say hello!
For areas outside The Commons, please use the existing recycling containers nearest you and either place boxes in cardboard-recycling containers or flatten and place them between the recycling containers and a wall.
Reduce
Boxes: Try packing in reusable totes or suitcases instead of cardboard boxes. If you can't use reusable totes, consider using recycled cardboard boxes and recycling them when you get to campus.
Appliances/electronics: If you bring appliances to your dorm or office, make sure they are ENERGY STAR appliances. If you have extra lamps, be sure to use energy-efficient LED bulbs.
Reuse
Fragile items: Use towels or bedding to wrap fragile items.
Make use of Vandy FreeSwap, an online resource for the Vanderbilt community to exchange unwanted items.
Donate: clothes, refrigerators, microwaves, and electronics.
Dorm supplies: Check with family or find reused goods like kitchen supplies, travel mugs, etc., before buying new items.
Recycle
This Map shows where you can recycle on campus.
Packing materials: If you bring cardboard or Styrofoam onto campus, recycle it all with the Cardboard Crew.
Plastic and aluminum: All clean plastic containers, beverage and food cans, and aluminum foil. NO PLASTIC BAGS, please!
Mixed paper: Phone books, magazines, fliers, newspapers, paper board, cereal boxes, junk mail, old papers.
Cardboard: Remove all packaging and flatten.
Glass: All glass bottles and jars. Glass recycling is located at The Commons Center, Crawford House, Lewis House, Carmichael Towers East & West, McTyeire, Warren and Moore.
Consider posting our Sustainability Move-In flyer in your area, available here. For more information about recycling or sustainability at Vanderbilt, visit SustainVU or call (615) 322-9022.
Contact: Sustainability and Environmental Management Office, (615) 322-9022
Also: recycle@vanderbilt.edu, (615) 343-2784