Next Steps students graduate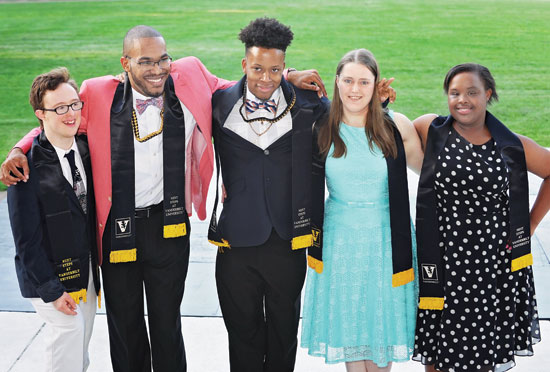 Next Steps at Vanderbilt held its annual commencement ceremony in April at the Wyatt Center. Next Steps is Tennessee's first postsecondary education program for young people with intellectual disabilities. After a rigorous two-year experience that included coursework, life skills training and internships, all five graduates have secured employment. In the fall, the program expands to a four-year experience.
School for Science and Math graduates 10th cohort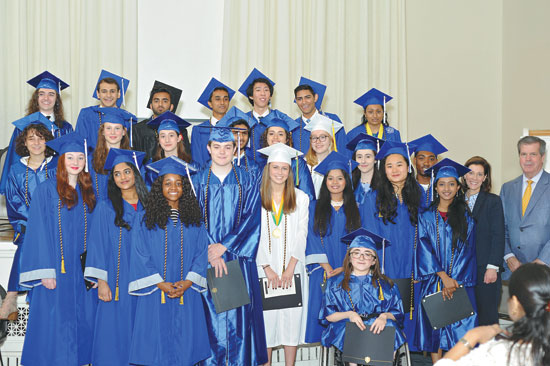 Twenty-four Metro Nashville high school seniors graduated from
School for Science and Math at Vanderbilt, a four-year honors program housed in the Center for Science Outreach. Karl Dean, former Nashville mayor and Tennessee gubernatorial candidate,
delivered the commencement address.
Impact Award goes to aspiring dental student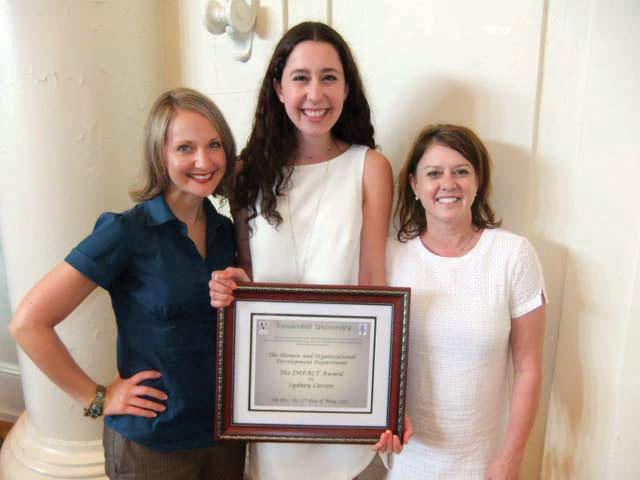 Sydney Larsen was honored with the Human and Organizational Development Nashville Impact Award in May for her internship at the Interfaith Dental Clinic as part of the health and human services track. Larsen plans to attend the University of Alabama at Birmingham School of Dentistry this fall. The Impact Award was created to raise awareness of the ways in which HOD student interns have positively affected the Nashville community.
Philanthropy class donates $75,000 to charities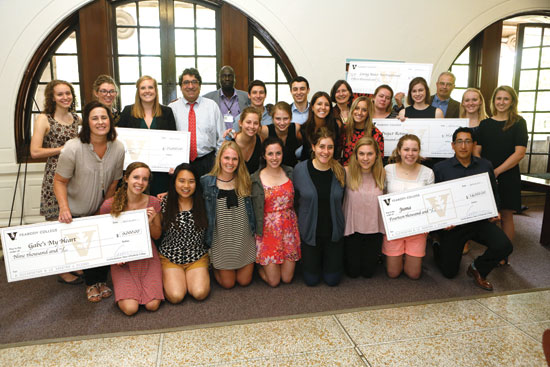 Students in the HOD Philanthropy and Social Problem Solving class capped off the semester with a donation to charitable organizations at a ceremony that included Chancellor Nicholas S. Zeppos. Checks totaling $75,000 were presented to Nashville International Center for Empowerment, Project Return, Living Water International, Juma and Gabe's My Heart. The funds were provided by The Philanthropy Lab. HOD Professor Marybeth Shinn taught the course, which is now in its second year and seeking ongoing funding.
Heinrich named to endowed chair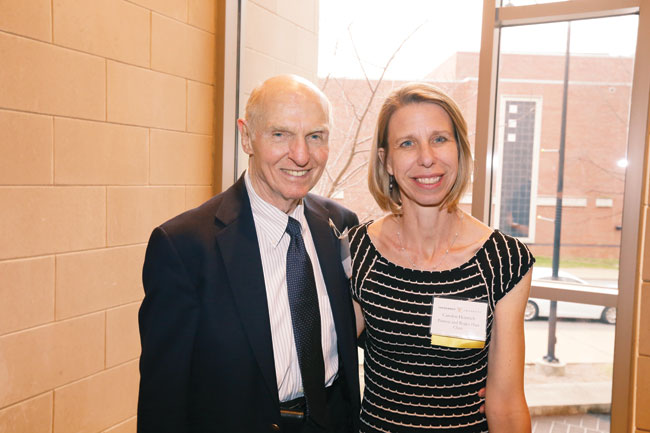 Carolyn J. Heinrich was among 10 Vanderbilt faculty members named to endowed chairs during a celebration at the Student Life Center in March. She now holds one of eight Patricia and Rodes Hart Chairs at Peabody. Heinrich specializes in education, workforce development, social welfare policy, program evaluation and public management, and performance management.
Faculty recognized at Spring Assembly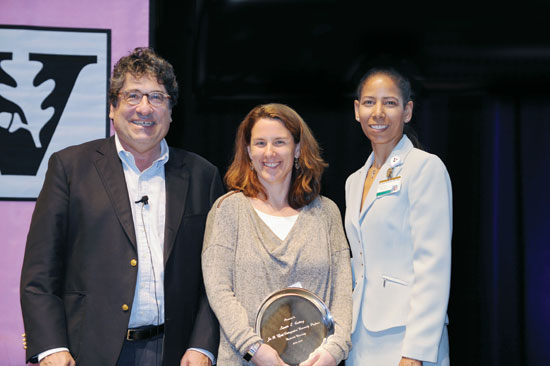 During the Spring Faculty Assembly in April, Chancellor Nicholas S. Zeppos honored two faculty members for their teaching, research and service. Laurie Cutting, Patricia and Rodes Hart Professor of Special Education, received the Joe B. Wyatt Distinguished University Professor Award. Andrew Van Schaack, principal senior lecturer in the Department of Human and Organizational Development and associate dean for online programs, received the Madison Sarratt Prize for Excellence in Undergraduate Teaching. Each award comes with a $5,000 prize.