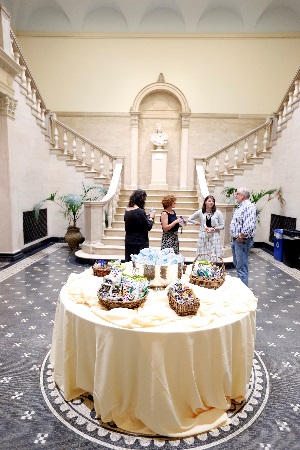 Vanderbilt University employees gathered for refreshments and snacks for "Art in the Afternoon" July 18 at the Fine Arts Gallery in Cohen Memorial Hall to observe the work of Morris Davidson and John Taylor Adams.
The Davidson exhibit rebuilt his progress as an artist in transitioning from different styles, and showcased how some of the foremost painters of his day helped him become who he was as an artist. Attendees had the opportunity to learn about the wide range of media Adams used in his journey, including printmaking and painting.
Employees also were treated to a special tour of the private art collection in the vault of the Fine Arts Gallery. After the exhibit employees walked over to the famous Ben Shahn glass-tile mosaic displayed at the Hobbs Building.
"The exhibit was wonderful," one participant said. "The tour helped me get a sense of what life was like seeing it through their eyes."
Visit the Employee Appreciation website to view upcoming events.