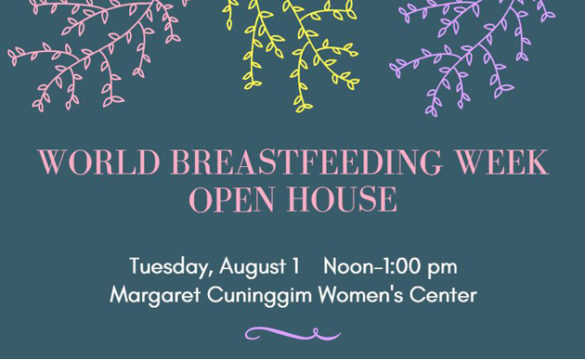 The Margaret Cuninggim Women's Center is a sponsor of Breastfeeding Welcomed Here, an initiative to support breastfeeding mothers on campus by offering safe and welcome spaces in which to feed or pump. A list of Vanderbilt's dedicated lactation spaces can be found here or by looking for the "Breastfeeding Welcomed Here" decal in office space windows.
To further bolster its support of breastfeeding mothers on campus, the Women's Center recently purchased a Medela Symphony hospital-grade breast pump. Hospital-grade pumps are faster and more efficient than personal pumps, and the Medela Symphony is designed for multiple users.
To use the Women's Center's pump, each user will need to supply an accessory kit, which costs approximately $30. If interested, please contact the Women's Center to schedule a session at womenctr@vanderbilt.edu.
Vanderbilt community members are invited to see the new pump when the Women's Center hosts an open house on Tuesday, Aug. 1, the first day of World Breastfeeding Week. First celebrated in 1992, World Breastfeeding Week is now observed in more than 120 countries.
Invited guests at the open house include Carol Huber, a lactation consultant at the Monroe Carell Jr. Children's Hospital at Vanderbilt; Kate Cropp, director of lactation services at Nashville Birth and Babies; and Tracy McMahon from the Nashville Breastfeeding Coalition. Huber, Cropp and McMahon will speak about the challenges and rewards of combining breastfeeding and work. There will be ample time for attendees to ask questions.
The open house is scheduled from noon to 1 p.m. Aug. 1. Please feel free to bring your lunch. Desserts and drinks will be provided. In addition, visitors will be able to tour the Women's Center to see the breast pump and where it is housed.