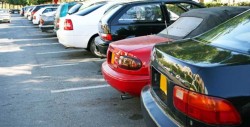 Vanderbilt University Parking Services is enforcing its "pull-in only" policy for registered vehicles on campus. Faculty, staff and student drivers are asked to pull in to spaces in their designated parking areas rather than back in.
University drivers have long been instructed to pull in to spaces, but the policy is being enforced more strictly as Parking Services begins using a License Plate Recognition system to monitor campus vehicles. License plates must face the drive isle of parking lots and garages in order to be scanned by the LPR system. Campus drivers accustomed to backing in to spaces were reminded of the pull-in policy with a note left on their vehicles beginning in May.
Parking Services is piloting the LPR system during the 2017-18 academic year in addition to issuing parking permits, with the goal of eliminating physical permits in the future. The LPR system will allow Parking Services to monitor campus vehicles more efficiently, saving fuel and idling time by patrol vehicles and resulting in cost savings for the university. The LPR system also will gather valuable utilization data about parking on campus.