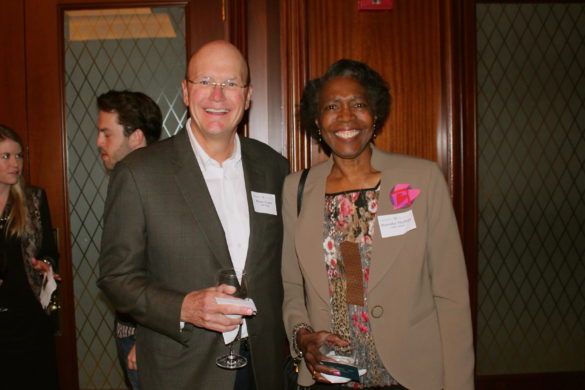 Dorothy Phillips, BA'67, the first African American woman to receive an undergraduate degree from Vanderbilt, was recognized in May for her contributions to diversity in STEM education during a Boston alumni chapter event.
Vanderbilt is honoring Phillips, pictured here with Bruce R. Evans, BE'81, chair of the Board of Trust, by creating two Dorothy J. Wingfield Phillips Chancellor's Faculty Fellowships. The fellowships will support midcareer faculty members who are leaders in diversity in STEM at Vanderbilt and will be awarded later this summer. Vanderbilt athletics honored her, among other civil rights leaders, during the 2017 Equality Weekend.
Phillips received her doctorate from the University of Cincinnati in 1974. She has been an American Chemical Society member since 1973 and was elected to the society's board of directors in 2013. She worked for Dow Chemical Company in Midland, Mich., and the Waters Corporation, an analytical laboratory instrument manufacturing company in Milford, Mass., where she became board director.