In two years, TIPs awards have made significant impact
Jul. 17, 2017, 10:33 AM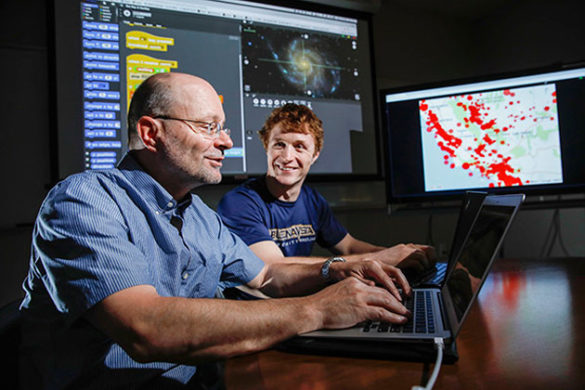 by Christian Anderson
More than 250 faculty members and several hundred students from Vanderbilt's 10 schools and colleges are currently addressing topics ranging from health care and educational technologies to the environment and big data through the TIPs award program, which supports the university's mission to advance discovery and learning.
In addition, projects under the Trans-Institutional Programs banner have secured more than $12 million in external funding.
"By bringing to life many of the themes associated with the Academic Strategic Plan, the 2015 and 2016 TIPs awards are tackling tough questions and responding to grand societal challenges," said Provost and Vice Chancellor for Academic Affairs Susan R. Wente. "These collaborative projects are strengthening Vanderbilt's scholarly profile and positioning the university as a leader in many key strategic disciplines."
The first two years of the program produced nearly 500 undergraduate student immersive experiences, including independent research projects in Africa, field work in Brazil, summer internships, senior design projects, immersion grants, ethnographic field work at community sites and outpatient clinics in and around Nashville, and projects through the Undergraduate Research Fellows Program.
Approximately 300 graduate and professional students also have been involved with TIPs projects. More than 40 graduate students are working in the nine labs affiliated with the Vanderbilt Institute for Surgery and Engineering. Several graduate students are involved with teaching assistance and research support. Ph.D. students are working with the Vanderbilt International Public Opinion Project to audit surveys, conduct international survey research, develop questionnaires and expand the program's social media presence.
National media, including the Wall Street Journal, National Geographic, NBC News and National Public Radio, have highlighted TIPs projects. In November 2016, the ViSE-affiliated lab STORM was featured in an NBC News article titled "Robots vs. Cancer: How Tech is Tackling Biden's Moonshot." In June 2016, ViSE was mentioned by the Wall Street Journal in its story "Six New Medical Technologies Worth Watching."
The Program for Music, Mind and Society, meanwhile, has seen an increase in attention recently, with National Public Radio and the BBC visiting campus this spring to learn more about the groundbreaking research associated with the project.
The following programs have received external funding.
To take a behind-the-scenes look at some of the currently funded TIPs awards, visit the VU BreakThru blog.