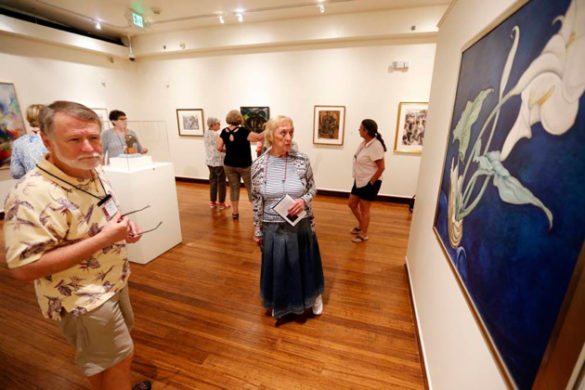 For the first time, the Osher Lifelong Learning Institute at Vanderbilt is offering a series of classes taught by Fisk University faculty on the Fisk campus.
"We are excited to grow and enhance our curriculum for lifelong learners with this new partnership with Fisk," said Norma Clippard, the institute's program director. "Diversity and inclusion are among our most important priorities, and we hope to engage new lifelong learners in a variety of neighborhoods across the Nashville community."
She added that the success of previous events Vanderbilt's Osher Lifelong Learning Institute has held on the Fisk campus helped propel this new initiative for a series of classes there taught by Fisk faculty.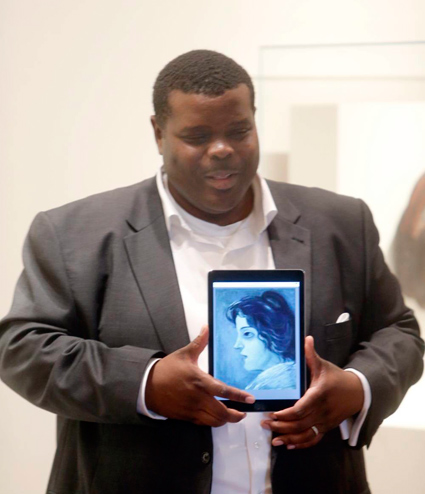 The first two courses—each meeting for six sessions—take place this month. Jamaal Sheats, director and curator of Fisk University Galleries and assistant professor of art, is teaching "Art and Context: Learning to Look" at the Carl Van Vechten Art Gallery. The course is a survey of world art as depicted in visual and written history from the Fisk University Galleries' Collections and the current exhibition.
The Van Vechten Gallery is currently featuring the renowned Alfred Stieglitz Collection of Modern American and European Art, with works by Pablo Picasso, Paul Cezanne, Auguste-Pierre Renoir, Henri de Toulouse-Lautrec, Georgia O'Keeffe and others.
Sheats, who was born in Brentwood, Tennessee, said that he "grew up" with the collection and earned his bachelor of science in fine arts in 2002 from Fisk. In 2011, he received a master of fine art in studio art from Tufts University and the School of the Museum of Fine Art-Boston. Sheats, whose areas of expertise include metal relief sculpture, was one of eight artists commissioned by the Tennessee Arts Commission to create works for the Music City Center. "The Osher students are excited and engaged—a fun group to teach," he said.
"This is a total treasure that everyone in Nashville should come to see, with over 4,000 priceless works," said Betsy Hay, board president of Vanderbilt's Osher Lifelong Learning Institute. "Professor Sheats is giving us the opportunity to look at paintings and other art works and asking, 'What do you see?' He then encourages us to look at ways to change perspective and enjoy art in a broader context, including consideration of what the artist had in mind and the particular time period in which the art was created."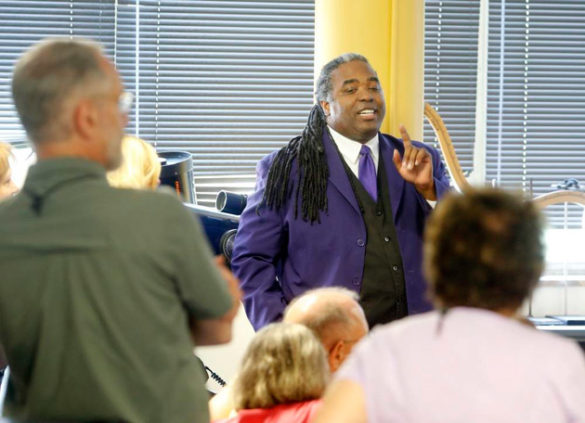 Meanwhile, Bryan Kent Wallace, assistant professor of physics and director of Physics Laboratories at Fisk, is teaching "Physics and Astronomy: A Conceptual Look at the Universe in Which We Live" in Dubois Hall. He was born in Chicago and earned a bachelor of science in physics from Grambling University. He received a master of arts in physics from Fisk. Wallace then earned a doctor of education in learning organizations and strategic change from Lipscomb University.
Wallace's course for Osher looks at principles in physics and astronomy that individuals are exposed to every day. "First we focus on physics principles that can be held in the palm of your hand, then expand to the far edges of the universe," he said. "We are all lifelong learners—no matter our age. What is especially appealing about these Osher students is they've had a world of experiences that younger students might not have had, and you can engage mature students in some different ways from their younger counterparts."
The noncredit classes are open to all interested individuals—50 and older—regardless of educational level.
"Osher is a wonderful opportunity to learn about so many different subjects while developing a strong sense of community through shared experiences with other lifelong learners," Hay said. She noted that Vanderbilt's Osher Lifelong Learning Institute is the only one in the state of Tennessee and one of the reasons she chose to stay in Nashville after her retirement.
For more information on the Osher offerings, visit OLLI at Vanderbilt, or email Norma Clippard.