Media Inquiries
Latest Stories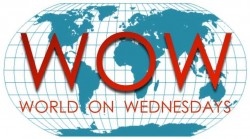 International Student and Scholar Services is seeking students, faculty, staff and community members who may be interested in collaborating with ISSS for its upcoming World on Wednesdays (WOW) program during fall 2017.
One mission of ISSS is to facilitate and promote international awareness throughout the Vanderbilt community by sponsoring campus-wide events. WOW seeks to provide an educational program that expands perceptions and prepares community members to become more diverse in perspective and more globally inclusive.
Past WOWs have included faculty and student presentations, research findings, study abroad experiences, guest speakers, Vanderbilt organizations, current issues and special cultural occasions. Visit the WOW website for more information on past topics.
WOW will sponsor two events during the fall 2017 semester. Each session will be from 12:10 to 1 p.m.
The fall 2017 schedule is as follows:
Sept. 27 – Student Life Center meeting rooms
Nov. 15 – Student Life Center meeting rooms
If your department, organization or any individual would like to present at World on Wednesdays, please complete the WOW proosal form and submit it to radhika.reddy@vanderbilt.edu or isss@vanderbilt.edu. You also may fill out the form online. ISSS will contact you to discuss your interest in the program. Space is limited, and selections will be made based on your fit with our program goals.
Please contact us for additional information or if you have any questions about the WOW program.
Contact: Radhika Reddy, (615) 322-2753
radhika.reddy@vanderbilt.edu