Media Inquiries
Latest Stories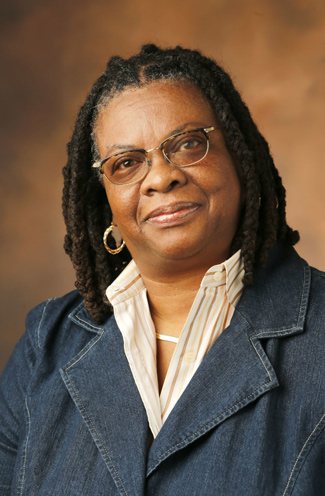 The Rev. Dr. Teresa L. Smallwood, a public theologian and attorney with a strong commitment to scholarship and activism, has been named associate director and postdoctoral fellow of the Vanderbilt Divinity School Public Theology and Racial Justice Collaborative.
Smallwood will conduct research in public theology and racial justice and manage the day-to-day operations of the collaborative under the guidance of Emilie M. Townes, dean of the Divinity School and the E. Rhodes and Leona B. Carpenter Professor of Womanist Ethics and Society.
"I am excited to work with Teresa Smallwood over the next three years and beyond as we seek to create informed public theologians—academics, activists, clergy, laity, students and more—who are able to lay bare the systemic structures that hold racism and its kin in place," Townes said. "[lquote]We will then develop and implement strategies to break down the barriers that structural evil creates to craft a more just society."[/lquote]
Smallwood's research draws on an interdisciplinary theoretical concentration that uses law, theology, ethics, womanist and feminist studies, anthropology, cultural studies, psychology and philosophy. "Here at the Divinity School, my research focus will be upon the ways public theology serves as a lens through which a socially conscious society positively impacts the disparities felt by racial minorities," Smallwood said. "We want to serve as a hub for this national conversation as we convene a body of leaders who champion the cause for racial justice each and every day."
Smallwood said she also has a broad research interest in how "religious freedom" has morphed into a means of social control. "I plan to study the work of writers and activists Audre Lorde and Ann Allen Shockley," she said. "In addition, I want to focus on the disparity with which LGBTQ lives are managed in society by exploring the meaning of sanctuary in the Pulse Nightclub killings in Orlando, Florida."
The North Carolina native earned a bachelor of arts from the University of North Carolina at Chapel Hill, a doctor of jurisprudence from North Carolina Central University Law School and a master of divinity from Howard University Divinity School. She recently defended her dissertation, "The Leprosy Effect: The Treatment of Queers in the Black Preaching Tradition," at Chicago Theological Seminary.
While working on her doctorate, she was engaged with social change groups for community grassroots organizing and coalition building on issues that include eradicating police brutality, eliminating mass incarceration, and reforming drug policy.
After practicing law in North Carolina, she joined the ministerial staff of Israel Baptist Church in Washington, D.C., where she developed and implemented a program to address the practical needs of citizens returning from the correctional system. She received the ACLU's highest honor for her efforts in the campaign to legalize marijuana in the nation's capital.
The Henry Luce Foundation awarded a $1 million grant to the Divinity School to bring together scholars, students, activists and public servants to study some of the nation's most pressing issues surrounding racism. For more information, contact Teresa Smallwood.