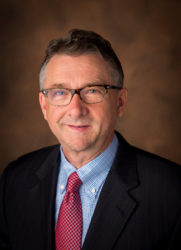 Dear university community:
Over the last few days, we have experienced a dramatic uptick in efforts to compromise our online security. Most of these are phishing attacks that attempt to trick the recipient into clicking a malicious link. At this time, it is crucial that we take extreme caution before clicking on any links and before opening attachments in emails.
Below are examples of phishing emails in circulation over the last few days. If you received a similar email, please do not click on any links and delete the message immediately. I encourage each of you to review best practices to protect yourself from attacks of this kind by learning how to distinguish a phishing email from a legitimate email.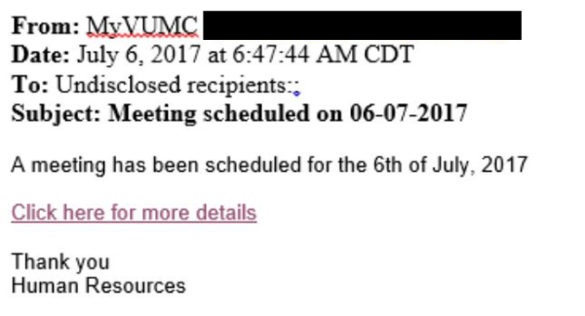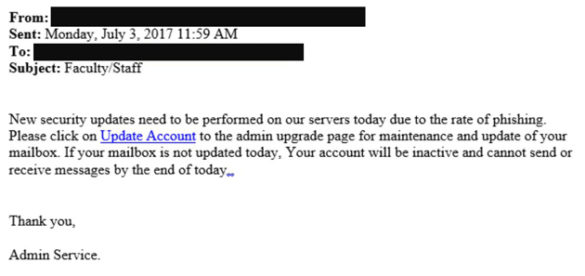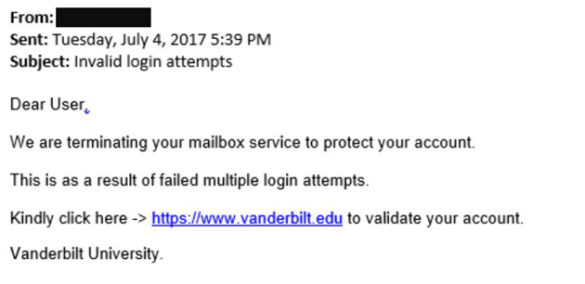 Remember:
Never give your ePassword to anyone.
Never click on links or open attachments in emails unless you verify that the sender is who he or she claims to be and acknowledges sending the email.
Never click or log into any links in emails that appear to lead to Outlook Web App (OWA).
If you have any questions regarding a specific email, please contact VUIT Incident Response at vuit.incident.response@vanderbilt.edu or call our help desk at (615) 343-9999.
Your online safety is our priority. Help us keep Vanderbilt and its information secure.
Sincerely,
John M Lutz
Vice chancellor for information technology