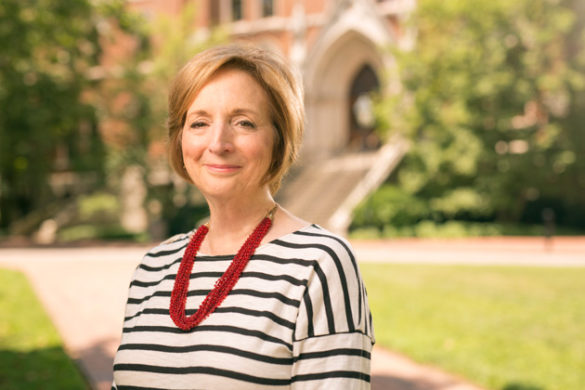 Assistant Vice Chancellor for News and Communications Elizabeth P. Latt will retire from her role as leader of external and internal university communications June 30 after 27 years of service to the university.
Latt announced her plans to retire early in the spring semester and has worked since then to assist Vice Chancellor for Communications Steve Ertel with the establishment of the new Division of Communications.
"Liz led Vanderbilt's News and Communications with a steady hand over nearly three decades," Ertel said. "Throughout her tenure, she worked tirelessly to enhance and protect Vanderbilt's reputation, navigating both tremendous change for the university and a radically evolving news industry. [rquote]Her sage counsel to me, her colleagues and countless university leaders, faculty, staff and students has been invaluable."[/rquote]
Latt joined the university in 1990 to lead its News Service. Her responsibilities grew and evolved to support a comprehensive communications organization that includes the team of public affairs officers who promote faculty and university research and achievements and manage communications during crises. She helped establish the Vanderbilt Video team, which has received 41 Regional Emmy Award nominations and won 11 times since it was created in 2007. With Vanderbilt Video Director Emily Pearce, who retired earlier this spring, Latt also led the establishment of the university's VUStar studio. VUStar enables national and international broadcast media to interview university faculty on breaking news and their research.
Latt created and launched MyVU, the university's faculty and staff news portal and newsletter in 2007. MyVU has won a Grand Award and an Award of Excellence from the Council for the Advancement and Support of Education and a Silver Quill Award from the International Association of Business Communicators, among other awards.
Latt was a member of the small team that launched the university's first homepage in 1994 and for the past 10 years has helped lead University Web Communications, which now supports the vast majority of all public-facing university websites and manages Vanderbilt's primary social media presences. News and Communications also includes university publications and support for school and college communications efforts. She served as a longtime board member of the Vanderbilt University Credit Union and as an adviser to the Ingram Scholarship Program.
A graduate of and subsequent instructor at the University of South Carolina College of Journalism, Latt served as chief state government reporter at the Columbia bureau of the Associated Press and as city editor at The Columbia Record prior to moving to Nashville in 1982. She worked briefly for the Tennessee Municipal League, served as a writer and editor for the Nashville bureau of the Associated Press, and later served as publications manager for Saint Thomas Hospital before coming to Vanderbilt.
The university launched a national search for an assistant vice chancellor for media relations and external affairs to lead those components of Latt's portfolio when she announced her retirement in February. Faculty and staff may continue to contact Associate Vice Chancellor for University Relations Melanie Moran or their direct contacts in News and Communications for assistance with communications.